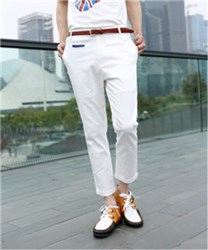 (PRWEB) November 27, 2013
The development of science and technology warrant the popularity of online shopping. Thus, there are more and more online suppliers offering various kinds of clothes. 4leafcity.com is one of the leaders among them.
Recently, the company has released a new collection of men's jeans. Furthermore, the fresh products are offered at discounted rates, up to 32% off. According to the CEO of the company, 4leafcity.com launches the promotion to benefit more international customers.
"We are proud to announce the men's jeans on sale. Those who are planning to buy nice jeans on the Internet should take full advantage of this special offer. It can save hundreds of dollars." The CEO explains, "We want to offer more benefits for our customers, so that they can know how much their support is appreciated."
The company has been specializing in the clothing industry for many years; its aim is to provide affordable, high quality clothes for men and women in the world. What's more, it promises fast delivery.
The new assortment of men's jeans was well designed by experienced workers of the company. They are all fashionable and comfortable. In addition to the competitive prices, the good quality is also a main factor behind their popularity. The good news is that the company has started to offer custom designs several months ago.
About 4leafcity.com
4leafcity.com was founded in 2009 and serves more than 5000 customers from every part of the world. It is one of the leading suppliers of men's and women's clothes, helping the people worldwide develop self-esteem, confidence and love of learning. For a full list of services and to learn more about 4leafcity.com, please visit http://www.4leafcity.com/product-men-s-jeans-009002.aspx.