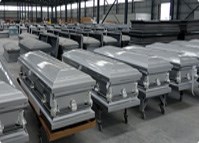 (PRWEB) November 25, 2013
MillionaireCasket.com is one of the largest casket manufacturers in the world, and the company is famous for its metal caskets. Recently, this casket company introduced its new metal casket collection to visitors from Germany. The German visitors are actually the company's old clients who keep a firm business relationship with MillionaireCasket.com.
All the new caskets from the company go through a strict quality control system. The German market has a very high quality requirement on products, and MillionaireCasket.com's products are qualified to enter the German market.
A German customer says, "We love the elegant designs from this company. They can always create what the customers need. Their caskets fit perfectly. We definitely recommend the casket cases to anyone interested."
MillionaireCasket.com is proud to offer a wide range of caskets and other accessories for its customers worldwide. Its primary goal is to deliver true value for clients' money. Casket distributors can discuss the latest trends and technologies with the company's designers.
The CEO of the company says, "Each of our caskets is completed with an adjustable bed, locking system, interior waterproof lining and rubber gasket. Here at Millionaire Casket, no expense is spared in creating this tribute to honor your loved one -- man or woman. Custom caskets are available here based on customers' requirements."
About MillionaireCasket.com
MillionaireCasket.com is a leading casket manufacturer from China. Focusing on casket wholesale, the company offers an exquisitely crafted line of all kinds of metal caskets, wood caskets, veneer caskets, cremation caskets, rental caskets, orthodox caskets, and infant or over-sized caskets. The standard quality control policy is strictly applied here, and a third party quality assurance is also available.
Please visit http://www.millionairecasket.com/ for more details.