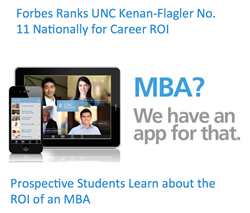 Chapel Hill, N.C. (PRWEB) November 25, 2013
Forbes ranked the full-time MBA Program at UNC Kenan-Flagler Business School No. 11 in its eighth biennial ranking of the top MBA programs in the United States.
The ranking is a five-spot jump for UNC Kenan-Flagler compared to the last ranking in 2011.
Forbes ranks programs based on the salary increase reported by graduates five years after graduation.
"This ranking demonstrates that our extraordinary learning experiences, faculty who excels at both teaching and research, and the top leadership program of any business school together prepare our graduates to thrive and deliver results," said Sherry Wallace, director of MBA admissions at UNC Kenan-Flagler. "For us, ROI is far more than higher salaries – it also means developing new ways of thinking and business acumen, joining a community with shared values, and building a lifelong career network."
Forbes ranks full-time MBA programs every two years based on return on investment (ROI) achieved by graduates five years after graduation. The 2013 ranking is based on surveys of the classes of 2008, when graduates "entered the job market in the teeth of the Great Recession."
Forbes surveyed alumni and compared their earnings in their first five years out of business school to their opportunity costs (two years of forgone compensation, tuition and required fees); adjusted the median "5-year MBA gain" for cost of living expenses and discounted their earnings gains using a rate tied to the discount rate used by large companies in their pension funds. It discounted tuition to account for students who pay in-state rates and for the non-repayable financial aid. The 5-year MBA gain represents the net cumulative amount that typical alumni would have earned after five years by getting their MBA versus staying in their pre-MBA careers. The schools are all ranked based on their 5-year MBA gain.
About the University of North Carolina Kenan-Flagler Business School
Consistently ranked one of the world's best business schools, UNC Kenan-Flagler is known for its collaborative culture that stems from its core values: excellence, leadership, integrity, community and teamwork. Professors excel at both teaching and research, and demonstrate unparalleled dedication to students. Graduates are effective, principled leaders who have the technical and managerial skills to deliver results in the global business environment. UNC Kenan-Flagler offers a rich portfolio of programs and extraordinary, real-life learning experiences: Undergraduate Business (BSBA), full-time MBA, Executive MBA Programs (Evening, Weekend and global OneMBA®), online [email protected], UNC-Tsinghua Dual-Degree EMBA, Master of Accounting, PhD, Executive Development, and UNC Business Essentials programs. It is home to the Frank Hawkins Kenan Institute of Private Enterprise.