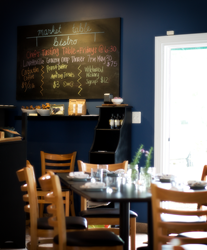 Lovettsville, VA (PRWEB) November 25, 2013
Leading restaurant furniture manufacturer and distributor Affordable Seating recently helped Lovettsville, VA restaurant and lounge Market Table Bistro redesign its seating by giving it a fresh look with new restaurant furniture.
For three years now, Market Table Bistro has made it their goal to utilize local farmers to produce a product, which showcases fresh Loudoun flavors. Market Table Bistro not only hopes to support local farmers, but also create a dining experience that allows customers to feel at home with the friendly environment that is evident through the welcoming wait staff. Beautiful vineyards and multiple breweries offer many opportunities to bring friends and family to visit Western Loudoun and come out for a Saturday or Sunday brunch at the Bistro. A talented kitchen staff paired with an attentive wait staff has proved to be unstoppable, earning three Slow Food Awards in DC, and meriting their spots in Northern Magazines Top 50 restaurants three years in a row, winning the cover as well.
Market Table Bistro partners with local growers, vintners and culinary artisans to offer locally produced items direct to customers in their market. They have seasonal menus, offering diners locally grown ingredients from produce that is in season. The cuisine is New American with signature southern dishes such as Shrimp and Grits and unique entrees such as Pumpkin and Goat Cheese Ravioli.
"As a venue that brings in a wide variety of customers and experiences heavy traffic throughout the day, Market Table Bistro was looking for restaurant booths and tables that would revitalize its image," Affordable Seating sales representative David explained.
Owner Rebecca Dudley turned to Affordable Seating because of their reputation for excellent quality and customer service. She ordered Affordable Seating's classic Ladder Back Wood Chairs and matching Bar Stools in mahogany finish with black vinyl seats. She also went with Reversible Table Tops in mahogany and black finish with black t-mold edge. Affordable Seating also offers these table tops in an oak and walnut finish with a brown t-mold edge, in 36" X 36 " size for $46. The tables also come in Oak and Walnut in a variety of shapes and sizes, starting at just $22.
The Ladder Back Chairs are made of solid wood and sell for $49 at Affordable Seating. They come in 6 standard finishes and a custom finish can be made upon request for an additional charge. Customers can choose between a padded seat which is made from American foam and vinyl or fabric or a solid wood saddle shaped seat. The padded seat can also be custom made from any material.
"The Wood Ladder Back Chairs Reversible Table Tops and were perfect for what the team at Market Table Bistro were looking for," David said. "The ladder back chairs are comfortable and functional, with the long-lasting durability and are reputed for their fine craftsmanship.
To view Affordable Seating's full selection of restaurant chairs, bar stools, booths, tables and patio furniture visit http://www.affordableseating.net or call a customer service representative at (888) 495-8884.
Market Table Bistro is located at 13 Broad Way East in Lovettsville, VA. They can be reached at (540) 822-3008. You can visit their website at: http://www.MarketTableBistro.com.