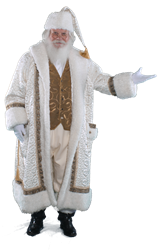 Stopping by for a magical moment while supporting a Valley cause is the best way to share the heart of Santa!
Phoenix, ARIZ (PRWEB) November 25, 2013
Dennis Thompson and Brian Trahan, proprietors of Phoenix' most exclusive design studio for flowers, special events and home décor, have applied their creative talents to an inspired pop-up Christmas boutique at Biltmore Fashion Park called White House Holiday Experience. Located across from UNION, Santa has found a special private setting to listen to wish lists and pose for elegant holiday portraits inside the boutique until he leaves on his worldwide flight Christmas Eve.
Holiday photos memories can be captured instantly, and shared as Christmas cards, photo gifts and on social media. Even more, these 22 Valley charities will receive 10% of the proceeds from each Heart of Santa or Gift Makers photo package purchased:
Fresh Start • AWEE—Arizona Women's Education & Employment • One n Ten • Arizona Kidney Foundation • American Cancer Society • Phoenix Children's Hospital • Ronald McDonald House Ryan House • Board of Visitors • PANDA• SARRC-Southwest Autism Research & Resource Center • Hospice of the Valley • Valley of the Sun United Way • Phoenix Crisis Nursery • Jobs for Arizona Graduates • Desert Mission Food Bank • HopeKids • Girl Scouts Arizona Cactus-Pine Council • Saint Francis Xavier • Comfy Cozies • Cortney's Place • Feeding Matters
Walk-ins are welcome. For an appointment with Santa, simply go to http://www.whitehouseflowers.com, then select date, time and charity package. Children will take home reindeer food after every visit.
Santa's White House Holiday Experience hours are: Wednesday-Saturday 12 p.m.-8 p.m. and Sunday 12 p.m.-6 p.m. through Dec. 7.
Dec. 8-Dec. 23, Santa will be present daily from 12 p.m. -8 p.m. and 9 a.m.-6 p.m. Christmas Eve at 2502 E. Camelback Road, Suite 166, Phoenix, Arizona 85016. Phone: 303-881-5951.
Families of children with special needs are invited to a compassionate, sensory-friendly Santa Cares event on Sunday, Dec. 8 from 10 a.m.- 12 p.m. For details and reservations, visit http://www.santacares.com.
About Noerr
From headquarters in scenic Colorado, The Noerr Programs provides turn-key digital event imaging and marketing services including the Santa and Bunny Photo Experience for regional shopping center partners, retailers and venues such as the legendary Plaza Hotel in New York City. Every Noerr cast member invests their heart, soul and experience into representing the spirit and essence of the season, building lasting connections with guests through Noerr's innovative retail, social media and altruistic platforms, including BeMerrySanta.com, where children can earn badges from Santa for performing good deeds. For more information, see NoerrPrograms.com and Facebook.com/BeMerrySanta.