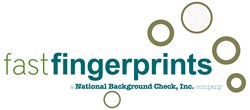 Columbus, OH (PRWEB) November 28, 2013
FastFingerprints is adding a new location to the Cleveland, OH area. The office will open Monday, December 2, 2013 and is located at 3401 Enterprise Place, Suite 340, Beachwood, OH, east of Cleveland and just off I-271 at the Chagrin Boulevard exit. With the addition of this new office, that will bring the total to four successful FastFingerprints locations in the Cleveland area. The new Beachwood location will provide live scan fingerprint BCI and FBI background checks. In addition, this office will also provide live scan fingerprint cards, oral drug testing, Level 2 live scan Florida background checks, and notary services. The hours of operation will be Monday-Friday 8:00am – 5:00pm and Saturday 9:00am – 12:00pm, with walk-ins always welcome.
FastFingerprints, a division of National Background Check, Inc. (NBCI), is approved by the Florida Department of Law Enforcement (FDLE) to process Level 2 live scan background checks. As an approved Level 2 live scan vendor, FastFingerprints can capture fingerprints electronically at the new Beachwood office, the Columbus office located at 1486 Bethel Road, Columbus OH 43220 and the Westlake office located at 1991 Crocker Road, Suite 600, Westlake, OH 44145. This process meets the Level 2 live scan background check requirement in the state of Florida. Fingerprints are then electronically submitted to FDLE, processed with the FBI and results are delivered to the state agency requesting the background check.
FastFingerprints offices in Ohio will now total 18, with the outlook for more locations on the horizon. FastFingerprints offer convenient services to help make the fingerprinting background check process as easy and pleasant as possible. All of the locations throughout Ohio welcome walk-ins, and mobile services are available throughout the state for groups of 25 or more. FastFingerprints is also able to provide fingerprint storage for professionals who must be fingerprinted often. Storage provides the luxury of never having to be fingerprinted again. Upon needing a new background check, customers call in for a form, fill it out and email/fax it back to FastFingerprints' corporate office. The stored prints will then be submitted directly to the BCI&I. It is a luxury valued by many professionals.
For more information about any of the services or about one of the locations, visit http://www.FastFingerprints.com, or contact 877.932.2435. Stay connected on both Facebook and Twitter.
About FastFingerprints
FastFingerprints, a division of National Background Check, Inc., has been a leader in the services, technology and equipment required to process state and FBI background checks via electronic fingerprinting for over 14 years. In addition to 18 locations here is Ohio and 25 in Florida, FastFingerprints' parent company (NBCI), is one of the few companies in the nation to be recognized by the FBI as an approved FBI Channeling Agency that processes FBI requests for federally legislated purposes. More information on acquiring an FBI criminal history check for federal reasons, not for Ohio state legislative reasons, can be found at http://www.nationalbackgroundcheck.com under the Fingerprinting and FBI Channeling tab. FastFingerprints welcomes walk-ins, and are available for mobile screening appointments. To find a location near you, or to set up a mobile appointment, please visit http://www.fastfingerprints.com or call 1.877.932.2435.