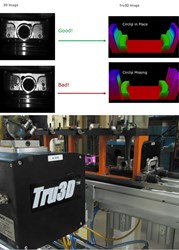 Ann Arbor, MI (PRWEB) November 26, 2013
Coherix is excited to announce Tru3D™ in-line systems have been running in full production for over a year with a zero escape rate, while detecting numerous instances of missing or improperly installed circlips. Tru3D for circlips is the first full 3D in-line assembly verification system with no moving parts. The system checks for clip presence, full seating, gap position, double clips as well verifying that the correct wrist pin is installed. The 3D data has led to an error proofing solution that is more robust, simpler to use, and lower cost to own than conventional methods.
Traditionally, this type of assembly verification has been done with a 2D camera or with physical probes. In order for a 2D vision system to perform an inspection on an image, feature pixels must contrast significantly with background pixels. The placement, distribution, intensity, color, collimation, and polarization of the lighting are the most critical factors in determining the system's ability to create contrast in an image. While it is possible to create an acceptable 2D image on a single part, normal part to part variation (i.e. production noise) means that a 2D system will invariably over reject, resulting in frequent production stops and/or system bypassing.
The mechanical probe inspection also struggles as it has to be set up for a very specific part type - if multiple designs of piston pins are being inspected, there must be a different probe arrangement for each one. With moving parts involved, there is a high level of maintenance and calibration required. These systems only measure simple point to point distances so there is very little data as well as some ambiguity regarding what features are actually being measured if the part is not perfectly aligned in the inspection fixture.
With the Tru3D system, an entire 3D surface map of an assembly is being created and inspected. This eliminates the lighting and part placement variation issues that are experienced with the 2D non-contact systems. The surface map is constructed by creating and locating high contrast light patterns on the assembly's surface. This technique does not rely on precise light positioning, intensity, or color and is vastly more tolerant of production noise. As long as the structured patterns are visible on the assembly's surface, an accurate 3D map is created regardless of surface finish, placement, or color. Tru3D combines the benefits of no moving parts and non-contact acquisition, with the analysis of thousands of 3D surface points.
Coherix is a privately held, global supplier of high-speed, high-definition 3D visualization and inspection solutions designed to improve the management of manufacturing processes. Headquartered in Ann Arbor, the company has technical centers in Europe and the Asia Pacific region. Coherix products are being utilized around the world at companies such as Intel, Amkor, BorgWarner, Ford, Honda, Allison Transmission, Chrysler, General Motors, Micron, Infineon, John Deere, Volvo Technology Transfer and Aisin among others.