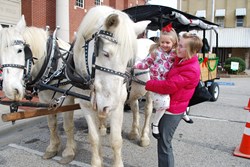 A wonderful time to reminisce and to create new memories to last a lifetime.
Jasper, IN (PRWEB) November 26, 2013
Shops in the city are ready for shoppers with gift ideas and window displays full of decorations during the annual Christmas event, the Jasper O'Tannenbaum Days, taking place December 6, 7, & 8. Features of this event included live entertainment, treats, carriage rides, train depot activities, Santa Claus, kids' activities, and a large variety of artists and artisans in the stores to greet visitors with demonstrations of their special skills.
This is a great weekend to share with loved ones and a wonderful time to reminisce and to create new memories that will last a lifetime. Horse-drawn carriage rides are sure to please both young and old during this special weekend. There will be one carriage taking passengers on the scenic and historic tour of downtown Jasper.
Along with carriage rides downtown, artists and artisans will display their talents all weekend in many of the stores, and the Jasper Train Depot will be a flurry of activity throughout the entire weekend. An Artist Studio Sale will be taking place with lots of demonstrations, bargains, and original artwork and studio closeouts! Alongside the artisans, Ray Major will delight downtown with his live musical entertainment.
More live entertainment is available at the Jasper Arts Center presenting the Texas Tenors Holiday Show on Sunday, December 8th at 7:30 p.m. (Eastern Time). With breathtaking vocals, humor and cowboy charm, the Texas Tenors have performed around the globe and were rated the highest-ranking vocal group in the history of the "America's Got Talent" show in 2009.
During this festive weekend, take some time to visit the Dubois County Museum, during their Festival of Christmas Trees and see history come back to life. Delight in the dollhouses and model trains, decorate a gingerbread person cookie, do kids' crafts to take home, and enjoy some Christmas shopping in the well-stocked gift shop.
Another attraction for history buffs during this time is the guided historical tours of St. Joseph Catholic Church, given on Friday evening at 7:00 p.m. and again on Sunday afternoon at 1:30 p.m. Marvel at this magnificent and beautiful building that is a landmark for Jasper. On Sunday afterwards right outside this church, Matachines dance in honor of Our Lady of Guadalupe, followed by a Mass in Spanish at 4:00 p.m.
Jasper Public Library is joining in to provide some unique entertainment for Sunday afternoon. From 2:00 p.m. until 3:00 p.m., parents and children can gather at the Library on Main Street for a special story-time with Santa Claus. Santa reads some Christmas stories and engages the children in Christmas songs.
This festival ends on Sunday with the 76th Annual Community Christmas Party in the Black Gym at the Jasper Middle School. Doors open at 12:30 p.m., Santa arrives at 1:00 p.m., and musical entertainment will be provided by the Jasper Middle School band. Children will be given a bag of treats when leaving the gym. Santa and several cartoon characters will be available for pictures for a short time afterwards.
For more information, visit http://www.duboiscountychristmas.com or call 800-968-4578.