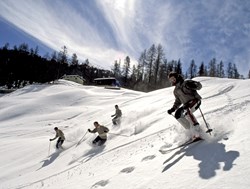 The true cost of international calling and sending data is often confusing to the general public.
(PRWEB) November 25, 2013
In the coming weeks, skiers all over world will descend upon ski stations and hit the slopes. And it's a gimme that most will want to share the joy of being there with friends back home. They'll want to access social sites from their mobile when having their après ski fondues, or send images of themselves on the slopes to friends and family.
It's well known that mobile roaming charges can break the bank. Time after time, horror stories appear about unwitting families racking up thousands of dollars in roaming charges simply by sending images on holiday from their mobiles or using Over-the-Top services like Skype, Whatsapp or Viber.
Some skiers may decide that the best method of keeping in touch is to buy a local SIM to get round roaming charges from their mobile network provider back home. Others may believe that roaming charges from their home provider is the best option.
But, is an international SIM card a better solution?
With a local SIM, a skier will have to pay $60 for the card and an additional $20 for sending data to the UK. The SIM comes with 2GB of data allowance as part of the deal. If the ski holiday is for two weeks, that works out at $80. Steep.
If a British skier decides to use the roaming services of a home provider, the cost would be £5 per day £70 for the holiday equivalent to approximately $113 at today's exchange rates. That's even steeper.
However, if the skier has a prepaid card from TravelSim, all that needs to be done is add some credit and the cost of sending an image is a just one dollar per Mb. That's it. If 10 images are sent every day for two weeks, the cost works out at $14 for the duration.
So the case is made. For the holidaymaker, a local SIM is nearly six times more expensive than TravelSim and roaming using a home account is eight times more expensive.
"The true cost of international calling and sending data is often confusing to the general public and it is the mantra of TravelSim to eliminate any confusion and offer the best possible rates," says Mikhail Markin, Head of TravelSim's Product Development. "Thanks to our long-standing agreements with mobile operators in over 190 countries, we believe that if you plan a holiday, there is only one real choice and that's TravelSim."
Getting a TravelSim card is simple. Visit http://www.travelsim.com and sign-up. Upon reception of the card, insert it into an unlocked phone and follow the easy instructions to get going.
Ends
About TravelSim
TravelSim is a product of Top Connect focused on both the business and leisure traveller. It is the world leader in international prepaid roaming solutions and is proven to save 85% on international roaming charges as well as offering very competitive data rates. Unlike local mobile operator cards, TravelSim is made for use around the world in over 190 countries. With exceptionally low rates on outgoing calls and free incoming calls in over 140 countries, TravelSim is the answer to the question "how to call cheaply from abroad." TravelSim currently has over 3.5 million users worldwide. For more information, visit http://www.travelsim.com.
For more information about the company and images, please contact:
Hugh Paterson, CEO
Whoosh PR
Email hugh(dot)paterson(at)whooshpr(dot)com, mobile +44 (0)77681 75452
All trademarks mentioned in this release are the property of their respective owners