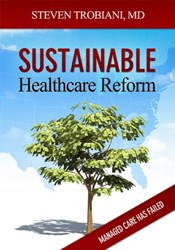 Obamacare was never about healthcare reform. It was and is entirely about imposing a massive tax on the middle class under the guise of healthcare.Steven Trobiani, M.D.
Minneapolis, Minnesota (PRWEB) November 26, 2013
On Friday, November 22, 2013, the Wall Street Journal reported that many of the managed-care insurers were requiring doctors to sign new contracts accepting significant reductions in fee schedules in order to participate in the plans offered through the exchanges under the Affordable Care Act (1,2). Politics & Healthcare's founder, Steven Trobiani, M.D. states that "This should come as no surprise. Nothing written in the Affordable Care Act was designed to make healthcare more affordable. The insurers are therefore using the same tool that they have employed for decades—paying less to healthcare professionals for the care provided."
Dr. Trobiani had earlier predicted declines in payment to healthcare professionals in his book "Sustainable Healthcare Reform: Harnessing the Power of Capitalism to Fund Our Social Needs". According to Dr. Trobiani, "The principal consequence of these cuts in payment will be to accelerate the demise of medicine as a profession and the development of a new healthcare industry in which management consists of government and the insurers and everyone else, including your doctor, is labor. And, make no mistake, labor never makes decisions."
"The ultimate goal of Obamacare is a total transformation of our healthcare system," continued Dr. Trobiani. Quoting from his book, "The financial problems faced by 1-2 person medical practices are also being felt by larger group practices. As a result, group practices…are being acquired by, or are merging with, hospitals, which, in turn, are being acquired by managed care organizations to create vertically integrated healthcare systems. Within these systems, the quality of care is primarily measured by how few resources are expended on that care. I believe we are rapidly approaching the insurers' desired goal of owning the entire healthcare system and, once that goal is achieved, there will be no way to rectify the damage. Who, in such a system, can advocate on behalf of a patient whose treatment is being denied. Any physician foolish enough to do so would be penalized financially or fired outright. The insurer, protected from ERISA from malpractice claims, would be free to direct care based entirely on the desired profit margin with little or no concern for patient welfare."
While warning of these dire consequences of Obamacare, Dr. Trobiani also offers a way forward toward a truly affordable and sustainable model of healthcare reform. This approach re-invents healthcare in the U.S. by creating a private-sector model that abandons the management of healthcare delivery as non-productive and employs in its place the management of healthcare finance. This model will:

Stabilize healthcare costs.
Preserve and strengthen employer-sponsored healthcare.
Limit employee healthcare expenses to the annual HSA contribution.
Eliminate employer healthcare costs after an initial vesting period.
Increase the net worth of companies using this plan.
Improve the quality and affordability of healthcare.
To learn more about this innovative approach to healthcare reform go to https://www.politicsandhealthcare.com and order a soft-cover copy of the book "Sustainable Healthcare Reform," also available as an e-book through Amazon.com.
Steven Trobiani, M.D. is the author of "Sustainable Healthcare Reform: Harnessing the Power of Capitalism to Fund Our Social Needs" and the founder of Politics and Healthcare, Inc., https://www.politicsandhealthcare.com. The mission of the company is to foster legislative change that will enable economically sustainable healthcare reform and minimize governmental interference. The goal is to achieve truly affordable healthcare that meets the needs of employers, workers and healthcare professionals.
1. Weaver, Christopher and Beck, Melinda, "Insurers Cut Doctors' Fees in New Health-Care Plans", The Wall Street Journal, 11/22/2013.
http://online.wsj.com/news/articles/SB10001424052702304607104579212450545926912
2. http://www.advisory.com/Daily-Briefing/2013/11/22/WSJ-Insurers-cut-pay-for-doctors