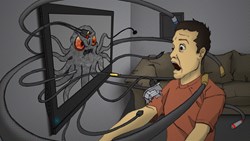 "We'll show CES attendees first-hand how they can turn their entire homes into connected multimedia centers."
Beaverton, Ore. (PRWEB) November 26, 2013
The HDBaseT Alliance at the 2014 International CES in January will recruit warriors for its battle against the ever-growing mass of A/V cables and power cords that consume the typical home entertainment system. The primary weapon: the HDBaseT technology, which delivers HD video, audio, power, controls and Ethernet over a single, inexpensive LAN cable. The Alliance will also show off a number of new HDBaseT-enabled products from leading manufacturers.
"Using HDBaseT to deliver high definition video, including 4K, audio, power, Ethernet and controls from a source like a DVR or Blu-ray player to displays throughout the house over a single cable may sound too good to be true," said Micha Risling, Marketing Committee Chair, the HDBaseT Alliance. "We'll show CES attendees first-hand how they can turn their entire homes into connected multimedia centers."
The HDBaseT Alliance "Fight the Cable Invasion!" exhibit will feature a video game tournament that will send the winner home with a new Integra HDBaseT-enabled A/V receiver.
Attendees will participate in the interactive HDBaseT Multimedia Home Connectivity demonstration that features single-wire televisions requiring just one HDBaseT port to receive HD video, audio, Internet, power and controls.
CES attendees will see a number of new 4K televisions as the wander the show floor. What they will not see is how difficult it can be to use standard cabling options to deliver 4K content to those displays. The HDBaseT Alliance exhibit will feature a demonstration of how simple it is to use HDBaseT technology to connect A/V components and deliver 4K video to 4K displays, showing first-hand why HDBaseT is the ideal solution for 4K connectivity.
The HDBaseT Alliance booth will also feature new HDBaseT-enabled AVRs, projectors and displays from several Alliance members including leading consumer electronics manufacturers.
The HDBaseT technology, powered by Valens chipset, enables all-in-one connectivity between HD video sources and remote displays through a single 100m/328ft CAT5e/6 cable, delivering uncompressed high definition 4k video, audio, Internet, control signals and up to 100 watts of power.
To schedule a one-on-one demonstration at the HDBaseT Alliance booth (LVCC South Hall 1 Booth #20215), please email press(at)hdbaset(dot)org.
For a preview of "Fight the Cable Invasion!" visit the HDBaseT Alliance YouTube channel.
About the HDBaseT Alliance
Founded by LG Electronics, Samsung Electronics, Sony Pictures and Valens Semiconductor, the HDBaseT Alliance is comprised of leading cross-industry companies formed to promote and standardize HDBaseT™ technology. The cornerstone of HDBaseT technology is 5Play™, a feature set that converges uncompressed full HD digital video, audio, 100BaseT Ethernet, power over cable and various control signals through a single LAN cable.
Members supporting HDBaseT technology play a pivotal role in defining the future of multimedia transmission and data communication in the consumer electronics and content provider industries. For additional information on HDBaseT Alliance and membership benefits, visit http://www.HDBaseT.org.
HDBaseT Alliance on Facebook: http://www.facebook.com/HDBaseTAlliance.