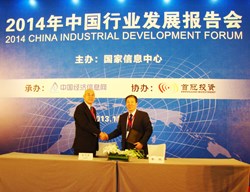 China Shouguan is determined to be the number one gold mining company in China
Shenzhen, China (PRWEB) November 26, 2013
China Shouguan Mining Corporation (OTCQB: CHSO) was the sole sponsor of the "2014 China Industrial Development Forum" in Beijing. The November 16-17 conference was attended by over 400 of China's top decision makers, global business leaders, international organizations and renowned scholars.
China Shouguan Chairman, Feize Zhang, said, "The conference held special significance because of the economic reforms recently announced by the Third Plenary Session. China is entering an exciting period in its history and the Forum was a chance for key government officials to analyze the present global and domestic economic situation and address monetary policy. With China Shouguan determined to be the number one gold mining company in China, the conference gave us further opportunity to enhance our drive to sign new gold mining exploration agreements."
Chairman Zhang continued, "Just as China Shouguan was the first Chinese gold mining company to be listed on a U.S. exchange, so was the forum an important moment in China Shouguan's history. It gave us the opportunity to hold constructive discussions with leaders and scholars from all over the world, and, to demonstrate that our Company has very close relationships and access with the Chinese Central Government."
The Forum was organized by the State Information Center of the State Council of the Chinese Government. Chairman Zhang said, "China Shouguan Mining Corporation welcomes interaction with China's top decision makers and economic planners. My talks with key government leaders and industry officials will bear fruit and allow our Company to hold high the banner of reform in all our actions and to continue to grow our business in accordance with these principles. As our Company continues its march towards up-listing on NASDAQ within the next 24 months, the discussions with the country's top decision makers can only enhance and accelerate our mining and shareholders' goals."
Following the Forum, the Company signed a landmark Memorandum of Understanding with Daxinanling Government for gold mine exploration. Terry Tsao, Director of Investor Relations for China Shouguan said, "The signing of the MOU is a landmark day for our Company. The Daxinanling area has never been explored before, representing incredible exploration opportunities for China Shouguan and enhance value for our shareholders."
About China Shouguan Mining Corporation
China Shouguan Mining Corporation is a gold and precious metals mining company with operations in Shandong Province, China. The Company acquires or leases underperforming mines in major mineralization zones, then funds their expanded exploration and production utilizing industry leading analysis, techniques and machinery. The Company additionally provides mining technical analysis and consultation.
Safe Harbor Statement This release includes forward-looking statements, which are based on certain assumptions and reflects management's current expectations. These forward-looking statements are subject to a number of risks and uncertainties that could cause actual results or events to differ materially from current expectations. Some of these factors include: general global economic conditions; general industry and market conditions, sector changes and growth rates; uncertainty as to whether our strategies and business plans will yield the expected benefits; increasing competition; availability and cost of capital; the ability to identify and develop and achieve commercial success; the level of expenditures necessary to maintain and improve the quality of services; changes in the economy; changes in laws and regulations, including codes and standards, intellectual property rights, and tax matters; or other matters not anticipated; our ability to secure and maintain strategic relationships and distribution agreements. The Company disclaims any intention or obligation to update or revise any forward-looking statements, whether as a result of new information, future events or otherwise.