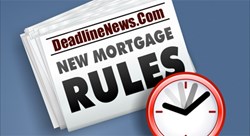 The only segment of the implementation of the QM will again be the Apartment Owners Association of America. We should hire their lobbyist.
Mobile, Alabama (PRWEB) November 26, 2013
Scoreinc.com, the nations leading provider of solutions for Pre-Underwriting Homebuyer Develop to the financial industry announced today that more than 35% of the loans originated in 2013 would not qualify under the Qualified Mortgage Rule Safe Harbor Guidelines that will become effective January 10, 2014 and has joined 118 house Republicans, many of which are members of the House Financial Services Committee, to request a delay in the implementation of the Qualified Mortgage Rule, arguing that many smaller institutions are not going to be ready on time and that this will materially impact the consumer that the CFPB seeks to protect.
According to Joel S. Pate, CEO of Scoreinc.com and mortgage and real estate industry veteran, "the task of compliance is especially difficult for the mortgage lenders, community banks and credit union institutions. Many of these institutions rely upon software systems for managing their operations and we are concerned that they simply will not be able to meet the January 2014 deadline to have their systems up to date and in place."
That of course will cause an upheaval in the ability of these firms to continue mortgage origination operations and will disrupt and harm the very consumer that the QM rule was meant to protect. And thus, we expect a drop of over 35% in closed real estate business as a result of the hurried implementation of this rule"
Scoreinc.com notes that mortgage companies and their trade association's, banks and credit unions have been pushing back against the up coming deadline for the implementation of the mortgage rule, but as of now, Richard Cordray appears unwilling to delay the QM's effective date.
"Years from now, when a loan is found not to meet the rigid guidelines of the QM, plaintiff attorney's will not care that there was a rush to implement this rule even if the CFPB is lax in their initial enforcement when a bank or mortgage company is deemed to have operated in good faith to comply with the new rules. But that won't help the market today, that will harm it," said Pate in a recent interview at the University of Alabama's Center for Real Estate (ACRE) sponsored continuing education event held at the Tuscaloosa Home Builders Association.
Scoreinc.com calls on all Realtors®, mortgage originators, consumers, consumers advocates, credit repair professionals, home builders, manufactured home dealers, Home Depot, Lowes, insurance agents and every other industry that benefits from the housing sector to immediately contact their representative and Richard Cordray at the CFPB directly.
According to Scoreinc.com founder and Vice President Joshua Carmona, "While we support many aspects of the QM and the overall effort of the CFPB to level the playing field for consumers, it is in times like these that government agencies must seek to do no harm in their implementation of industry regulation. We call on Mr. Cordray to hear the voices of the industry and postpone the implementation of this rule to a date in which the implementation will not harm the very consumer that the CFPB seeks to protect."
Scoreinc.com will host a webinar on December 5th at 3 PM CST to prepare its customers to lobby their representatives and the CFPB directly on this important issue as well as help these financial institutions and company's to prepare to overcome a massive drop of more than 35% of closed business when this rule goes into effect. Register today for this important meeting:
Click here to register for the webinar.
About Scoreinc.com
Scoreinc.com, Inc., headquarter in Mayaguez Puerto Rico USA, with offices in Mobile Alabama, is a leading provider of services to the derogatory credit sector of the financial service industry through its Scoreway® Software Solution and credit report accuracy dispute services. The Scoreway® platform provides an end-to-end management solution that helps the companies that we serve manage the credit review and dispute process and to improve controls and profitability. Scoreinc.com services an ever growing list of mortgage company's, banks, credit unions, Realtors®, builders and credit service organizations through its innovative technology and credit report accuracy service. Contact Score for more information at 877-876-5921 or visit http://www.scoreinc.com