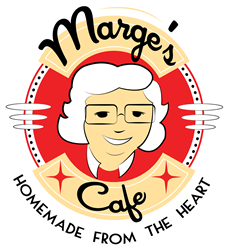 Tallahassee, FL (PRWEB) November 25, 2013
Street Chefs owner Rebecca Kelly will be opening Marge's Café, in the Northwood Center in Tallahassee. Kelly's new venture is an all-American diner that will be serving up homestyle meals for breakfast and lunch. Catering and a full to-go menu will also be available.
Marge's Café will be located in the Northwood Centre Food Court at 1940 North Monroe St., Suite 88, in Tallahassee.
Kelly's inspiration for Marge's Café came from her Granny, who was always cooking delicious homemade food in her kitchen. Kelly has designed full breakfast and lunch menus for Marge's Café with daily breakfast and blue plate lunch specials Monday through Friday. Kelly also hopes to offer take-home dinner meals in the near future as well.
The breakfast menu includes specials like pancake stacks, waffles and an omelet bar, or lighter options like a grab-and-go sandwich. The lunch menu features $6.50 blue plate specials like lasagna, fried chicken and meatloaf. Lighter lunch options include sandwiches, home-fresh salad bar and homemade hummus. Sides and drinks are also available. The full menu is available at http://www.margescafe.com.
Marge's Café also offers a full catering service for breakfast or lunch, as well as a hot buffet service. Hot buffet orders require 24 hours advanced notice. Call 850-523-4299 for Marge's catering services.
Check out the homemade specialties from Marge's Café Monday through Friday from 7:30 a.m. to 4 p.m. Marge's Café is closed on Saturday and Sunday.
Kelly, who also owns and operates Street Chefs food truck, is a Certified Culinarian through the American Culinary Federation and has been in the food service industry since 1997. The Street Chefs food truck will continue to operate and can be found at their regularly scheduled locations.
About the company:
Street Chefs is a mobile restaurant located in Tallahassee, FL, providing lunch and dinner to the greater Leon County area. Established in 2011, the Street Chefs Mobile Diner provides a quality dining experience that is quick and convenient. Chef Rebecca Kelly offers creative food quickly with quality ingredients and flavor that give new meaning to the term "fast food." For more information, visit their website.