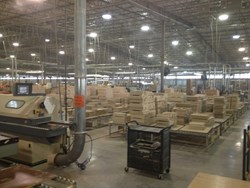 Matawan, NJ (PRWEB) November 27, 2013
Stone Creek owner Mike Bruno has recently returned from an intensive four-day training at Wellborn headquarters in Ashland, Ala., where he learned all aspects of the construction, building and installation of the exquisitely-designed Wellborn product line.
Wellborn's extensive specialized factory training on Wellborn Products is unique in the industry, resulting in highly-trained specialized dealerships to make the selection, purchase and installation of new Wellborn Cabinets a seamless and smooth process.
Addition of the Wellborn Products line of cabinets further enhances the offerings at Stone Creek Builders, which also feature cabinets from Apple Valley Woodworks, Canyon Creek Cabinets, Norcraft Cabinetry, Aristocraft Cabinetry, Campagna Furniture, Palette Collection and Ronbow Materials.
Headquartered in Matawan, N.J., Stone Creek Builders is a full-service builder committed to impeccable quality and personalized customer service with unparalleled focus on excellent communication, integrity, quality craftsmanship and client satisfaction.
Since 1961, the Wellborn family has owned and operated Wellborn Cabinet, located in Ashland, Ala., providing kitchen and bath cabinets made with the utmost quality and care.
Wellborn's facility controls quality from the timber that arrives to the finished cabinet, ensuring that its kitchen and bath cabinets are of the highest quality available anywhere.
Wellborn Cabinet came from humble beginnings in the early 1960s to become one of the highest-quality, thriving kitchen and bath cabinet manufacturers in the nation.
As a family-owned and operated business, it continues to keep focus on the principles on which the company was founded - hard work, quality and dependability.
For those reasons and more, including the intensive training at the Wellborn factory, addition of the Wellborn cabinet line is a great boost to the New Jersey customers of Stone Creek Builders, who have been designing and installing kitchens for over 15 years.
Utilizing 20/20 design software, Stone Creek Builders and Stone Creek Design provide various options in 3D and in a variety of perspectives for clients to review.
For expert building or design, or to see the new line of Wellborn Products, contact Stone Creek Builders at 253 Main Street, Suite 183, Matawan, N.J., or call 732-566-0395.
About Stone Creek Builders
The founder of Stone Creek Builders has been a leading provider of building, remodeling and restoration services for over 20 years. Stone Creek Builders provides general contracting, remodeling, insurance restoration, house lifting, and storm reconstruction services to clients in central and shore regions of New Jersey. Contact us at (732) 566-0395 or visit our website at http://www.stonecreekbldrs.com for more information.