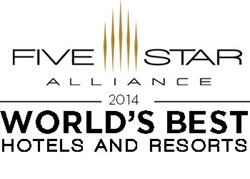 Washington, DC (PRWEB) November 26, 2013
Five Star Alliance, the leading, inclusive directory of luxury hotels and resorts, has officially released their fifteen World's Best Hotel & Resort Lists for 2014. The World's Best Hotels Lists are a hand-picked collection of more than 300 luxury hotel properties and resorts worldwide, in 70 countries, that have been selected by Five Star Alliance's team of travel experts, through guest feedback, as properties that represent the best in unique experiences, class, and reputation.
The World's Best Lists for 2014 represent the latest lists of curated hotels and resorts that will inspire travelers with exclusive recommendations for a variety of interests and locations.
"We believe our 15 World's Best lists represent some of the most fascinating new properties to enter the market as well as reflect travel trends we've seen become more popular this year including a restaurant and dining focus, family and multi-generational travel, destination weddings and those clients that may already be very well-traveled but are looking for new and unique experiences both in traditional and emerging markets," explains Courtney W. May, General Manager of Five Star Alliance.
Danilo Zucchetti, Managing Director at Villa d'Este Hotels had this to say about awards for both Villa La Massa in Florence (a Top 50 Hotels winner) and Villa d'Este, Lake Como (a Top 50 and Best Honeymoon Hotels winner). "We are delighted that Five Star Alliance has named us as two of the World's Best Hotels for 2014. At both our properties, beautiful surroundings, attention to detail, and outstanding standards of service is what has made us two of the world's best luxury hotels."
"We're honored by the selection and greatly appreciate the restaurant award," said World's Best Restaurant Hotel and Top 50 World's Best Hotels' Trout Point Lodge co-owner and chef Vaughan Perret. "Everyone at the lodge works extremely hard to provide guests with a truly exceptional dining experience, but given our wilderness location and size, we often don't get noticed in the worldwide restaurant ratings."
The carefully selected winners went through a lengthy internal approval process, including guest feedback, before consideration. Five Star Alliance will also be rolling out exciting consumer sweepstakes in the coming weeks that will highlight the World's Best launch.
The 15 World's Best Hotels & Resorts Lists are: Best Business Hotels, Most Romantic Hotels, Best Honeymoon Hotels, Best Boutique Hotels, Best All-Inclusive Resorts, Best Family Hotels, Best Beach Resorts, Best Casino Resorts, Best Golf Resorts, Best Spa Hotels, Best Ski Resorts, Best New Hotels, Best Restaurant Hotels, Best Destination Wedding and Top 50 Hotels.
http://www.fivestaralliance.com/worlds-best-hotels-2014
ABOUT: Five Star Alliance has been named one of the "Best Travel Web Sites" and is an endorsed member of IATAN, the International Airlines Travel Agent Network. Five Star Alliance is also a member of the Hospitality Sales & Marketing Association International (HSMAI). Five Star Alliance is an independent boutique web site that assists travelers find and book the ideal luxury hotel from a collection that currently numbers over 4000 hotels in 193 countries. Consumers find and return to http://www.FiveStarAlliance.com, the only fully comprehensive, editorial website directory of luxury hotels and resorts, for helpful recommendations, exclusive content, competitive rates, exclusive packages and world-class customer service.