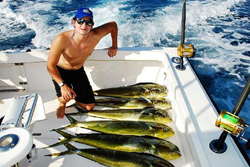 We caught 10 mahi in one day! We had so much fish we gave six away, had our chef cook it for dinner two nights, and still had a ton left over!- Gina Williamson, CA, USA
(PRWEB) November 26, 2013
Manuel Antonio and Quepos have long been known locally as a sport fishing Mecca, drawing avid fishermen from all over the world. Located at the center of the Central Pacific region of Costa Rica, the area is not only easily accessible from the San Jose international airport, but also provides easy access to the deep waters of the Pacific Ocean—where true sport fishing takes place.
Compared to popular destinations in Mexico such as Cabo San Lucas, Quepos and Manuel Antonio are still a relatively undiscovered sport fishing hotspot—meaning fewer boats and more fish. To help illustrate this, this year the 2013 Offshore World Championship was held at the new Pez Vela marina in Quepos in April—and broke all previous records with a whopping 821 billfish releases. With the combination of a fantastic beach destination such as Manuel Antonio, a huge new marina in Quepos, and some great amenities for tourists, Manuel Antonio should be on the top of every fisherman's (and rookie's) sport fishing 'bucket list.'
The fishing outlook for 2014 is positive. While there is some seasonality to the runs for different kids of fish—there are always fish to be caught. Boats like the Moonwalker, Pez Espada, and Frenzy are already experiencing high volumes. Clients can spend a great day on the ocean, fishing for catch-and-release billfish, or fish for cooking such as mahi-mahi, tuna and snapper. Perhaps the most gratifying part of the experience comes after returning home, when a private chef cooks up the fish caught that same day. Seafood restaurants such as the Gran Escape in the Pez Vela marina will also prepare fish caught by their customers.
Manuel Antonio is also known for its luxury vacation rental homes and condos, whose services tend to cater to the fishing crowd.
"Fished on the Moonwalker out of Marina Pez Vela this past September with 4 friends. Besides catching 5 monster dorado, and 4 sailfish we also caught a marlin estimated at 4oo pounds. Wish I could make it back this December when the billfish and dorado start their big runs... but I guess I will have to wait until January when I've already booked this great boat and crew for a couple days!"

Whether staying at a luxury vacation rental home for the week, or simply passing through town for a couple of days, 2014 promises to be a great opportunity for seasoned fishermen and novices alike.