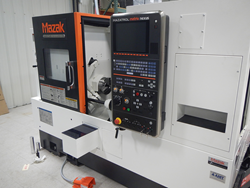 Dexter, MI (PRWEB) November 26, 2013
There is nothing like the need to add more capacity, and Protomatic found their shop having the good fortune to have that need brought upon them. In order to maintain delivery dates, the prototype and CNC machine shop added a new Mazak Quick Turn to its arsenal. This machine, manufactured in Kentucky, enables Protomatic to offer several advanced machining features such as re-threading, remote auto centering for bar stock loading, and load controlled auto pecking for drilling. These features offer an incremental decrease in cycle times, improving capacity and assuring on-time delivery.
With a 35hp main spindle, this is a high-horsepower machine which enables heavy roughing cuts for reducing cycle times. A 3" spindle bore will accommodate fairly large bar stock. With a maximum spindle speed of 5000rpm, the Mazak can generate a surface cutting speed of 3900sfm (surface feet per minute).
This machine is equipped with a VDI turret, which is a significant improvement over traditional "bolt on" drum turrets. The VDI turret gives it less tool interference and, as a result, a bigger machining diameter. A drum turret for this machine has a tool holder area on the turret of about a 10" diameter. The VDI turret has a 13" working area which reduces tool change time and improves tool positioning accuracy. The VDI turret also allows for a 7.5hp milling head at 6000rpm on this lathe.
According to Vice President and General Manager, Doug Wetzel, "All in all, we're looking forward to the future with this state-of-the-art machine and our increased capacity for making parts that can save lives."
Protomatic specializes in Life-Saving Precision. The company resides in a 30,000 square-foot facility at 2125 Bishop Circle West in Dexter, Mich. Their areas of expertise include prototype machining and custom short-run precision CNC milling and turning. In addition to those services, Protomatic will customize, produce and assemble parts and systems for numerous industries and jobs. Industries served include medical, aerospace, automotive, military, and several other markets.