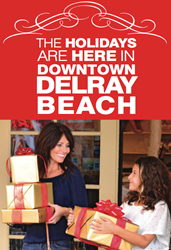 'We are thrilled to be able to give back to the customer and provide this complimentary service during this very festive time of year!' - Laura Simon, Associate Director of the DDA
Delray Beach, FL (PRWEB) November 26, 2013
This historic Downtown is filled with tradition and charm especially during the holiday season. With the 100ft Christmas tree providing the décor, a carousel, "ice" skating rink, and Santa visits in his workshop, the Delray Beach DDA, with the support of their partners and businesses, are proud to add to the holiday atmosphere, with hospitality and FREE gift wrapping.
Yes, the DDA has decided to get creative with one of the few vacant retail spaces on E. Atlantic Avenue and create a Holiday Hospitality Pavilion area. This pavilion will be open on select days, leading up to Christmas, where shoppers will be able to bring their packages to be wrapped.
Holiday Hospitality Pavilion:
Date: December 7, 14, 21, 22, 23, 24
Time: 11 a.m.-6 p.m.
Location: 306 E. Atlantic Avenue (next to SunTrust Bank)
"The DDA's mission is to encourage shopping local and supporting our downtown businesses," says Laura Simon, Assoc. Director DDA. "We are thrilled to be able to give back to the customer and provide this complimentary service during this very festive time of year!" Not only will gifts be wrapped by volunteers from around the community and local schools, but all shoppers and diners in downtown will have the opportunity to register to win a fabulous Downtown Gift Package valued at $500 by simply showing their receipts at the Pavilion area.
Along with the pavilion, the DDA is responsible for decorating the downtown with twinkle lights, big star-fish lights on the street poles, wreaths throughout SW/NW 5th Avenue and Pineapple Pallets in Pineapple Grove. At Atlantic Avenue and A1A, a Sphere Christmas tree will light up the beach and shine from November 30 through January 3rd. "It is so important that our Downtown is inviting and enhances the experience of our residents and visitors that fill Delray Beach this time of year in hopes that they will spend one more day in Downtown Delray," expresses Marjorie Ferrer, Exec. Director, DDA.
To assist with everyone's holiday shopping, the Downtown boutiques and restaurants have provided gift selections and promotions to the DDA to include on http://www.downtowndelraybeach.com. From artwork, gym memberships, dresses, boots, jewelry and of course the newest bikes around. Be sure to visit the promotions page and on Facebook.com/delraydda to get great ideas. Enjoy the spirit of the season in Downtown Delray, where both Night and Day, the Holiday's are here.
******************
About the Downtown Development Authority:
For the past 41 years, the Downtown Development Authority has assisted in successfully branding Delray Beach as the Village by the Sea. The Delray Beach DDA was created by Resolution 9-71, which became law on March 22, 1971, as a dependent district of the City of Delray Beach. "The DDA Mission is to enhance and stimulate balanced economic growth through position marketing activities that engage Downtown businesses, residents and visitors while creating a clean, safe, physical and experiential place to live, work and invest." The main areas of involvement in downtown redevelopment include: Marketing and Promotions; Economic development programs; Place Making within the DDA boundaries. The DDA also works closely with merchants to develop seasonal retail awareness campaigns to generate traffic and sales and has created a powerful website http://www.downtowndelraybeach.com and facebook.com/delraydda site that attracts thousands of visits weekly.
Contact: Laura Simon, Associate Director, Delray Beach Downtown Development Authority
Office: 561.243.1077, Cell: 561-573.3672 lsimon(at)downtowndelraybeach(dot)com