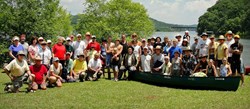 Best Mountain Towns in Georgia
Atlanta, Georgia (PRWEB) November 26, 2013
Situated among beautiful the beautiful Blue Ridge Mountains is the warm and friendly town of Toccoa, Georgia, home of the Currahee Club. Downtown Toccoa is preparing to share the holiday spirit and lit up the town with smiling faces during its 2013 Toccoa ChristmasFest and annual Festival of Trees taking place Friday, December 6th from 5:00 p.m. to 8:00 p.m. and Saturday, December 7th from 12:00 p.m. to 4:00 p.m.
The town's Festival of Trees event is held this year in the recently renovated Stephens County Historic Courthouse, the historic center of downtown Toccoa. Thus visionary mountain town successfully acquired $2 million for the renovation of its Neoclassical style courthouse in the city's campaign for historical preservation and community growth.
The Festival of Trees event gathers the community together around the Stephens County Historic Courthouse as businesses, civic groups, schools, families, and charitable organizations to vote for the best decorated Christmas tree submitted by the local community. One dollar casts a vote and the proceeds then go to fund the entrants favorite nonprofit organization. Special Events Coordinator, Sharon Crosby says, "This is a great way for our local businesses to give back to the community through helping our local non-profits." All of the nonprofit organizations are able to keep the money raised through their votes, but the grand prize winner takes home a prize of $500 with the proceeds benefitting their charitable cause. After the winner of the Festival of Trees is announced, the town gathers for a traditional Lighting of the Tree in Historic Downtown Toccoa.
Saturday afternoon warms up further with ChristmasFest activities along main street. Live music, games, and a Christmas market liven up the streets of downtown Toccoa, Georgia. Visitors tour the Historic Town Mall decked out in lights, wreaths, and red ribbons. The weekend is wrapped up by a one-of-a-kind Christmas parade along main street. The Toccoa Woman's Club hosts the parade from 4:00 to 5:00 p.m. This year's inspiring theme is "Christmas in the South" with jolly old Saint Nick riding in at the end.
Special cultural events throughout the year include seasonal markets, The Spring Arts and Crafts Show, The Taste of Toccoa, The Currahee Military Weekend, and National Train Day. Each event boasts the town's rich heritage along with fun activities for visitors of all ages. Currahee Military Weekend is one of the most popular weekends, featuring a six-mile race along the Colonel Sink Trail, and World War II reenactments at a military camp.
The nearby Toccoa Falls College, located in the foothills of the Blue Ridge Mountains, encourages its students to participate in community events, and invites residents to attend performances and sports games sponsored by the Christ-centered college. The Toccoa Falls campus is an exciting day trip for anyone interested in exploring the famous Toccoa Falls waterfall just along the Chattahoochee National Forest.
Downtown Toccoa, Georgia is gaining popularity with its rich history and quality living. Established in 1873 and named after the Cherokee word for "beautiful", it is no surprise that Toccoa GA real estate is drawing attention from Baby Boomers. Gated Northern Georgia Mountain communities provide upscale amenities and leave an impression of true Southern Hospitality.
Currahee Club goes one step further with its resort-like luxury cottages hidden among the Blue Ridge Mountains. These stunning Lake Hartwell homes are accompanied by panoramic views and breathtaking sunsets. Known as one of the largest recreational lakes in the Southeast, Lake Hartwell boasts 56,000 acres of lake with a 962 mile shoreline. Toccoa GA real estate offers more than a mountain home in a private gated community. It offers a friendly neighborhood filled with cultural pride and rish heritage. Lake Hartwell homes are a gem bordering one of America's most precious lakes.
The Blue Ridge Mountains provide the perfect backdrop for a quiet escape filled with scenic beauty. Other Currahee Club amenities include an award winning Rolex Top 1,000 Golf Course designed by Jim Fazio, the Currahee Sports Club, Fitness, Swim , Tennis & Amenity Campus and more. Baby Boomers exploring gated Northern Georgia communities, should schedule a trip quickly and see the 2013 Southern Living Custom Builder Showcase Home available for viewing through December 22, 2013 along with a number of new Currahee Club homes.
About Real Estate Scorecard:
Real Estate Scorecard writes unbiased real estate reviews providing in-depth information about popular gated communities in Florida, Georgia, North Carolina, South Carolina and Tennessee, all in an effort to help people discover where to retire in the Southeast.
Website: http://realestatescorecard.com