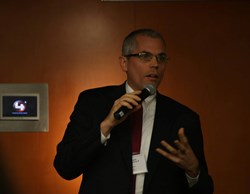 Crowdfunding is an extraordinary vehicle for investors to directly connect with opportunities. Additionally, for pursuits such as American Homeowner Preservation, a great deal of social good can be achieved along with financial gains. -Jorge Newbery
Chicago, IL (PRWEB) November 25, 2013
The Aspen Investment Forum on January 6 – 7, 2014, at the Jerome Hotel in Aspen, Colorado, will feature the founders of six real estate crowdfunding portals, including Jorge Newbery of American Homeowner Preservation ("AHP"). Joining Newbery are the founders of RealtyMogul, GroundBreaker, CrowdStreet, iFunding and ForeFund. The panel will discuss the burgeoning real estate crowdfunding movement.
AHP generates high-yield distressed mortgage investment opportunities which positively impact families and communities. By purchasing pools of distressed mortgages from banks at substantial discounts, AHP can offer viable solutions for families to stay in their homes with reduced payments and discounted principal options. If homes are vacant or families do not want to stay, AHP offers incentives to borrowers to sign deeds in lieu of foreclosure in order to promptly put abandoned homes back in service. Other real estate crowdfunding portals typically match development projects with investors, who can often invest modest sums over several deals, and even multiple platforms, in order to diversify their interests and mitigate the risk of one large investment in a single venture.
AHP began in 2008 as a 501(c)3 nonprofit and has evolved into a for-profit socially-responsible hedge fund, and has recently added crowdfunding. The minimum investment in AHP's hedge fund was $250,000, and now our minimum is $10,000. The hedge fund generated over 14% in 2012, and investors can now earn 9% for one year investments, 10.2% for two years and 12% for five years. "The discounts we negotiate with the banks enable us to deliver transformative solutions to struggling homeowners, and strong returns to our investors," said Newbery.
Crowdfunding's popularity has exploded, particularly in the real estate realm. "Crowdfunding is an extraordinary vehicle for investors to directly connect with opportunities. Additionally, for pursuits such as American Homeowner Preservation, a great deal of social good can be achieved along with financial gains," Newbery said.
AHP is currently accepting accredited investors to participate in the 2013C opportunity, which features 249 assets. 90% of the assets are First Mortgages and 10% are REOs. The total investment of $5,660,000 is 38% of the $14,772,615 value of the homes securing the mortgages. Revenue is distributed to investors monthly.
To learn more about the Aspen Investment Forum, visit http://www.aspeninvestmentforum.com or email info(at)crowdfundproductions(dot)com. To learn more about American Homeowner Preservation please visit call (800) 555-1055, visit http://www.ahpinvest.com or email info(at)ahpinvest(dot)com.