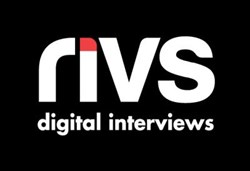 (PRWEB) November 26, 2013
RIVS, a provider of cloud-based digital interviewing solutions, today announced the RIVS Digital Interviewing SuiteApp has achieved 'Built for NetSuite' verification. The RIVS Digital Interviewing SuiteApp delivers an integrated recruitment solution, allowing NetSuite customers to discover higher quality candidates faster with on-demand, live and recorded interviews. The SuiteApp also allows Human Resources teams to create, conduct, and share digital interviews through the NetSuite platform.
Built for NetSuite is a program for NetSuite SuiteCloud Developer Network (SDN) partners that provides them with information, resources and a method to verify that their applications and integrations, built using the NetSuite SuiteCloud Computing Platform, meet NetSuite standards and best practices. The Built for NetSuite program is designed to give NetSuite customers additional confidence that SuiteApps have been built to meet these high standards.
"The RIVS Digital Interviewing SuiteApp complements NetSuite's cloud-based HR partner solutions," said Guido Haarmans, Vice President Business Development for Technology Partners. "Our customers face a variety of challenges related to recruiting and the RIVS Digital Interviewing SuiteApp can enable NetSuite customers to streamline their talent selection process, allowing them to identify and hire top talent more efficiently."
"RIVS is ecstatic to be working with an innovative and disruptive company like NetSuite," said Bill Meidell, Vice President of Sales and Operations at RIVS. "NetSuite has redefined the ERP space with its cloud solution and is a model for how RIVS plans to change recruitment with our cloud-based digital interviewing software. We look forward to working with NetSuite to help our shared customers improve their business performance by making them more efficient and providing better data for critical business decisions such as hiring."
About SuiteCloud
NetSuite's SuiteCloud is a comprehensive offering of cloud-based products, development tools and services designed to help customers and commercial software developers take advantage of the significant economic benefits of cloud computing. Based on NetSuite, the industry's leading provider of cloud-based financials / ERP software suites, SuiteCloud enables customers to run their core business operations in the cloud, and software developers to target new markets quickly with newly-created mission-critical applications built on top of mature and proven business processes. The complete SuiteCloud offering includes NetSuite's multi-tenant, always-on SaaS infrastructure; the NetSuite Business Suite of applications (Accounting/ERP, CRM and eCommerce); and NS-BOS Development Platform.
The SuiteCloud Developer Network (SDN) is a comprehensive developer program for Independent Software Vendors (ISVs) who build apps for SuiteCloud. All available SuiteApps are listed on SuiteApp.com, a single-source online marketplace where NetSuite customers can find applications to meet specific business process or industry-specific needs. For more information on SuiteCloud and the SDN program, please visit: http://www.netsuite.com/developers.
About RIVS
RIVS is a digital interviewing software that slashes the time it takes to find, recruit and engage the best candidates. With the understanding that no size fits all, RIVS provides written, voice, and video interviewing options for companies to streamline the recruiting process. RIVS prides itself on being a world class service organization with unparalleled customer support and a consultative, relationship-based approach to sales and client on-boarding. For more information about RIVS, please visit http://www.rivs.com.