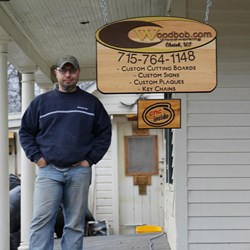 Chetek, WI (PRWEB) November 25, 2013
Woodbob.com will be launching a 25% off sale on all orders for their state shaped cutting boards to kick off the 2013 holiday shopping season. Their custom shaped cutting board are made complete with a free geographic icon engraving which can be placed in any location on the cutting board. Woodbob also offers a variety of country shapes, animal shapes, and fully customizable shaped cutting boards. Their handmade gifts are made out of bamboo or brown maple which can be gift box wrapped for an addition fee. The 25% off sale starts on Monday, December 2nd, otherwise known as "Cyber Monday" at 12 a.m. and goes through 11:59 p.m. The one day sale will make use of a coupon code the customers can get on the company's website banner and Facebook page on the week of the Thanksgiving. Woodbob's personalized cutting boards are one of a kind unique gifts for the holidays or for any special occasion. Woodbob stresses ordering early to ensure that all gifts arrive in time for Christmas. For an added convenience, the company has reduced USPS Priority 2day shipping costs.
For more information, visit http://www.woodbob.com. To connect on Facebook, visit http://www.facebook.com/woodbobshop.