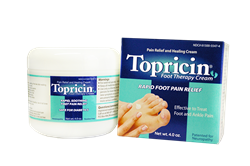 Topricin Foot Therapy Cream is safe for diabetics and patented for the topical treatment of pain associated with neuropathy.
Rhinebeck, NY (PRWEB) November 25, 2013
Topical BioMedics, Inc., has partnered with Walgreens, a leading national drug retailing chain, to carry its Topricin® Foot Therapy Cream, which is patented for topical treatment of pain associated with neuropathy and is safe for diabetics. Headquartered in Deerfield, Illinois, Walgreens operates nearly 9,000 retail stores across the U.S. The retailer will be carrying Topricin Foot Therapy Cream formula in its drugstores' Diabetic Section.
Topical BioMedics is the research and development leader in topical natural medicine formulas for pain relief. The company's product line includes original Topricin Pain Relief and Healing Cream, Topricin Foot Therapy Cream, and Topricin for Children. The natural formulas have been awarded a patent for the topical treatment of pain associated with fibromyalgia and neuropathy.
Topricin Foot Therapy Cream has been specially formulated to address pains associated with foot and ankle pain and injuries, including gout, heel spurs, bunions, and sports injuries such as Plantar fasciitis, Achilles tendonitis, and shin splints, as well as neuropathic nerve pain.
"We are delighted that Topricin Foot Therapy Cream has been chosen by Walgreens for inclusion in its Diabetic Section," says Lou Paradise, Topical BioMedics' president and chief of research. "It is estimated nearly 60% of all diabetic patients experience neuropathy in their feet, which can be painfully debilitating and greatly impacts their quality of life. Because our formula is patented for the treatment of pain associated with neuropathy, it offers a safe, effective option for people suffering from both diabetic and chemo-induced neuropathy. Having it on the shelves in Walgreens will certainly make our product more available to those in need."
Topricin products are made in the U.S.A. and are in compliance with federal rules for homeopathic over-the-counter medicines. Topricin products are growing in popularity and are safe for diabetics and the entire family including pregnant women. The formulas contain: no parabens, petroleum or harsh chemicals, are odorless, greaseless and non-irritating, and produce no known side effects. Doctors and pharmacists can find more information about Topricin in the Physicians' Desk Reference (PDR).
For locations of stores, visit http://www.walgreens.com.
# # #