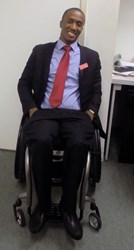 Labrawn is grateful to VR for supporting him every step of the way.
Miami, Florida (PRWEB) November 27, 2013
Vocational Rehabilitation of Florida shares Labrawn Stafford's incredible success story, proving to others how much there is to be thankful for this time of year. To this day, Labrawn continues to touch and motivate many because of Vocational Rehabilitation's (VR) commitment to helping people with disabilities find meaningful careers.
If you plan on shopping at The Falls® Macy's this holiday season, you'll find Labrawn in the men's department. In just under two years, he's been promoted three times to different sales manager positions, and is currently the executive sales manager for the men's department. His career is on the fast track.
Labrawn's story begins when he was a junior at a Tampa high school when an automobile accident, where he was actually declared dead at the scene, changed his life forever. The accident broke his spine leaving him with "incomplete quadriplegia," which means he has use of his upper body from the middle of his back up, including his arms/hands.
Realizing that he was given a second chance at life, Labrawn decided he would find a purpose and make a difference in positive ways to others. Immediately after graduating high school, he came to VR for assistance; unsure of what he wanted to do next, work or college.
At VR, the first step was to conduct a vocational evaluation, which determined that he had a high aptitude for business and communications, so he decided to pursue a degree in Business Administration at Hillsborough Community College. He then transferred to Florida State University where he graduated with a degree in Mass Communications and a second degree in History.
Labrawn's tuition was covered by a Pell Grant and VR. VR also provided him with a new wheelchair. After receiving a donated vehicle and hand controls from Tampa General Hospital's Wheelchair Rugby Team, VR sent him for driving lessons.
After graduating in 2012, Labrawn was immediately hired by Macy's as a department manager in Miami; a full-time salary position, which he was very proud to give up his Social Security benefits for. Labrawn couldn't be more thankful for the opportunity he was given at life and to VR for supporting him every step of the way.
Labrawn's VR Counselor, Frances Branch, is very proud of him and says, "He came to VR as a kid with no family support and no plan, just a desire to do something positive with his life and the second chance he was given. It took seven years, but with VR's support and his own determination, he has become very successful in so many ways. He is truly an inspiration."
People with disabilities in search of employment, vendors, and Florida employers who are interested in taking part of this uplifting and gratifying experience, are encouraged to contact VR at (800) 451-4327.
About Vocational Rehabilitation:
Vocational Rehabilitation (VR) is a federal-state program that helps people who have physical or mental disabilities get or keep a job. VR is committed to helping people with disabilities find meaningful careers. Our employer-focused website, http://www.FLJobConnections.com, allows businesses to search at no charge for employees who are ready to go to work, as well as to post available jobs. VR has 80 offices across Florida, and last year helped 6,523 Floridians with significant disabilities find or keep a job. For more information about VR and its services, call (800) 451-4327 or visit http://www.Rehabworks.org.