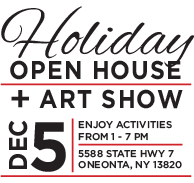 There is sure to be something for everyone.
Oneonta, NY (PRWEB) November 26, 2013
Springbrook, a provider of innovative supports and services for special needs people of all ages is excited to celebrate the holiday season with a Holiday Open House and Community Art Show.
Springbrook would like to welcome members of the surrounding community to attend an Open House at the organization's newest campus, located at the former Saint Mary's School building on Highway 7. The event takes place on December 5, from 1 p.m. – 7 p.m. at 5588 State Highway 7, Oneonta, NY. This event is free and open to the public.
A variety of activities are scheduled throughout the day. From 3 – 5 p.m. there will be an informational meeting about Consolidated Supports and Services for people with disabilities. This is a great opportunity for those with disabilities and their loved ones to learn more about self-determination and how they can live as independently as possible. For more information about the CSS session, please call 607-353-7272, ext. 2900.
From 1 – 6 p.m., guests can take a self-guided tour of the new facility. During the tours, staff will be available to answer questions and provide additional information. From 3 – 6:30 p.m., families can join the Springbrook Recreation Club for fun arts, crafts, and games. Springbrook is also presenting its Gifts Unwrapped Community Art Show opening reception from 4 – 6 p.m.
For more information on the Open House or the Gifts Unwrapped art show, click on the "News" tab at http://www.Springbrookny.org, or call 607-286-7171, ext. 370.
Springbrook is the leader for at-home care, residential and educational services, day services, and clinical, therapeutic, and behavioral supports to over 850 people with developmental disabilities from across New York State. The organization is Otsego County's third largest employer with over 1,100 employees.