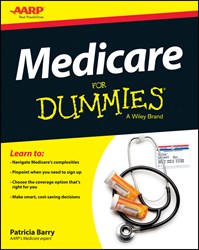 If you're one of the millions of Americans looking to make sense of Medicare, this hands-on, friendly guide has you covered.
Hoboken, NJ (PRWEB) November 27, 2013
More than 50 million older and disabled Americans are currently in Medicare and over 10,000 newcomers enroll every day. Yet people constantly say they're baffled by the program's complexities and confused by its options. Are they eligible? When should they enroll? What kind of coverage plan is best for them? How can they avoid late penalties and other mistakes that cost money?
Fortunately, the experts at AARP are here to provide clear, straightforward answers tailored to readers' own circumstances.
Medicare For Dummies® (Wiley, 978-1-118-53278-2, October 2013), by Patricia Barry, a senior editor at AARP and its "Ask Ms. Medicare" columnist, is the fast and easy way to get up to speed on Medicare. The book provides readers—especially those new to Medicare—with practical information in plain language on how to get the best out of the program. In particular, it empowers them to overcome much misinformation about Medicare that comes from a variety of sources.
AARP's Medicare For Dummies explores these topics and many more:

What Medicare covers—and doesn't cover
When to enroll—according to your circumstances
How to make smart, cost-saving decisions
How to choose the coverage option that's right for you
How Medicare fits in with other health insurance you may have
How to reduce out-of-pocket expenses
How to trouble-shoot problems
If you're one of the millions of Americans looking to make sense of Medicare, this hands-on, friendly guide has you covered.
For information on how to order the book, visit http://www.aarp.org/MedicareForDummies.
About the author:
Patricia Barry, a senior editor at AARP, has written extensively about Medicare from the consumer's point of view for 14 years. Since 2008, she has answered thousands of questions sent by Medicare beneficiaries across the nation to her Ask Ms. Medicare column. In addition to Medicare for Dummies, Ms. Barry also wrote Medicare Prescription Drug Coverage for Dummies, which explains in detail Medicare Part D.
About For Dummies®
After nearly 20 years and with more than 200 million copies printed, For Dummies is the world's bestselling reference series, well known for enriching people's lives by making knowledge accessible in a fun and easy way. Loyal customers around the globe agree that For Dummies is "more than a publishing phenomenon … [it is] a sign of the times," [The New York Times]. The books span every section of the bookstore, covering topics from health to history, music to math, sports to self-help, technology to travel and more. The For Dummies brand presence is further expanded with the addition of eBooks, a corporate custom publishing program, a robust consumer website and a licensed product line that includes consumer electronics, culinary, crafts, video, software, musical instrument packs, home improvement, automotive, game and more. For more information, visit Dummies.com. For Dummies is a branded imprint of Wiley.
About AARP
AARP is a nonprofit, nonpartisan organization with a membership that helps people 50+ have independence, choice and control in ways that are beneficial and affordable to them and society as a whole. AARP does not endorse candidates for public office or make contributions to either political campaigns or candidates. We produce AARP The Magazine, the definitive voice for 50+ Americans and the world's largest-circulation magazine with nearly 35 million readers; AARP Bulletin, the go-to news source for AARP's millions of members and Americans 50+; AARP VIVA, our bilingual multimedia platform for Hispanic members; and our website, AARP.org. AARP Foundation is an affiliated charity that provides security, protection, and empowerment to older persons in need with support from thousands of volunteers, donors, and sponsors. We have staffed offices in all 50 states, the District of Columbia, Puerto Rico, and the U.S. Virgin Islands.