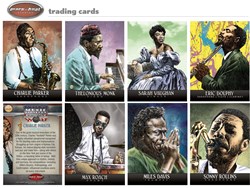 Guitar legend Carlos Santana at a major fundraising effort said, "Music can change lives. Some young people have a lack of self-worth, but if they are reminded of people like John Coltrane,they will change."
Centerport, NY (PRWEB) December 04, 2013
Marsbeat Studios is excited to launch American Music Pioneers, a hand-illustrated, collectible trading card series, with Volume I: Jazz. This inaugural set features 35 portraits of jazz greats from Louis Armstrong, Charlie Parker, and Billie Holiday to Thelonious Monk, Miles Davis, and Wynton Marsalis. Designed to inspire jazz listening and learning, each of 35 exquisitely drawn portraits is accompanied by a brief bio and packaged in a high-quality, flip-top box. Volume 1: Jazz is now available through the interactive Marsbeat website, providing links to featured artists and other resources, at http://www.marsbeatstudios.com.
Jazz is one of America's greatest cultural achievements and exports to the world, one that makes a powerful statement about freedom, creativity, and American identity. The trading card format will assure wide access to a choice selection of celebrated American jazz legends for music lovers of all ages and backgrounds, in the U.S. and abroad.
"With these captivating portraits by illustrator Ron Bucalo and an exciting website that showcases some of the best performances and sounds of classic American jazz, this project is sure to attract fans, build new audiences, and keep the music alive for generations to come," says Judith Service Montier, Director of Marketing & Corporate Sponsorship at the National Black Arts Festival in Atlanta, GA.
The second volume of American Music Pioneers, coming soon, will focus on masters of the American blues. Each series will provide recognition opportunities for corporate sponsors. With future offerings to include multi-platform apps, merchandise, and print materials, the cards will be available through a variety of retail and online outlets.
About Marsbeat
Marsbeat Studios is an illustration, marketing, and design firm based in New York that seeks to recognize and promote the artistry and popular appeal of America's rich musical heritage. The company was founded by Ron Bucalo, a widely published illustrator, and Glenn Bucalo, founder and president of Target Group Media, a full-service web design and print media company based on Long Island