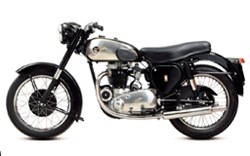 The Classic Motorbike Show is a magnificent event highlighting some of the critical developments of motorcycle history
(PRWEB UK) 27 November 2013
The Classic Motorbike Show, at the Birmingham NEC, saw around 65,000 classic car and bike enthusiasts visiting the hall for all their classic vehicle needs, whether two-wheeled or four. There was so much going on all weekend, from the breath-taking daring Wheel of Death to the inspiring Pride of Ownership competition. There was a large number of bikes from all marques and eras to satisfy even the most fussy of biker tastes.
Marketing Director of aquote bike insurance, Derrick Mabbott, described the event: "There are some wonderful charismatic and iconic bikes on display here, such as the first ever Harley Davidson XR-750 built in 1969. The Classic Motorbike Show is a magnificent event highlighting some of the critical developments of motorcycle history." Show attendee Mark Richardson also spoke about his experience of the event: "It was great to see such a variety of bikes at the show. It brought back so many memories and it had every single bike I had owned prior to having children. The Honda XL 175 was my first bike and I loved that bike, even though the exhaust was held on with wire and one of the wing mirrors was gaffa taped on. The one at the show was in a lot better condition than mine was but still bought back those memories. I was really impressed with the diversity of bikes and thought the bike show was a fantastic addition overall."
The Pride of Ownership, a now integral part of the Classic Motorbike Show, saw an outstanding selection of motorcycles entered for judging. However, 1st prize went to the well-deserved Russ Montgomery and his stunning 1925 Levis T3 PX2120. This is a relevantly unknown UK manufacturer but was at one stage one of two of the Nation's finest two-stroke engine producers. Derrick Mabbott continued by saying, "The Pride of Ownership contest is a shining example of how passionate the UKs bikers are about the biking scene and ensuring the survival of classic bikes for the future."
The wall of death was a fantastic crowd pleaser and saw hundreds of visitors enticed in by the daredevil antics of the riders. Ken Fox and his team did an incredible job, keeping everyone on the edge of their seats as they rode classic motorcycles and even some go-karts around the 18ft high wooden walls. Those who missed it this year, make it a must for next year.
Once again, The Classic Motorbike Show team did an unbelievable job in creating a memorable day for all. Biking enthusiasts up and down the country cannot wait to see what 2014 has to offer!