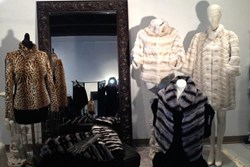 Our customers visit Scottsdale from all over the world and are impressed with our huge inventory and significant savings on a collection designed for the modern woman's lifestyle. -- Cedric Kirchner
Scottsdale, Arizona (PRWEB) November 27, 2013
Cedrics Luxe, an online retailer, recently opened an outlet in North Scottsdale area with a selection of alluring fur enhanced accessories and modern edgy outerwear at "close-out" prices.
The Cedrics name is highly regarded in the industry as a premier manufacturer and online retailer providing their customers with an exceptional selection of accessories and outwear from prominent designers around the world and exclusive Italian imports.
The founders and designers of CedricsLuxe.com, Cedric and Norma Jean Kirchner have successfully operated 15 brick and mortar retail outlets for over five decades. The Kirchners brought their extensive collection of accessories and fur to Shop NBC T.V. in 2003. The Kirchner's are far from winding down and they have never felt more excited. "We always say that when you are doing something you love, it's not work."
Encouraged by the overwhelming response, Cedrics went global by launching their full-service ecommerce website, CedricsLuxe.com. This was quickly followed by a social networking presence on Facebook CedricsLuxe and a Twitter account.
The Kirchners partner directly with premier manufacturers across the globe and leverage their strong relationships with them to reduce or eliminate business overhead and costs. This allows them to sell spectacularly styled merchandise at significantly reduced prices.
Today the Cedrics Luxe Collection is an extensive collection of alluring accessories for the modern and active woman with a discerning eye for luxury and affordability.
Please visit cedricluxe.com and follow them on Facebook for daily, weekly, and season long specials and discounts.