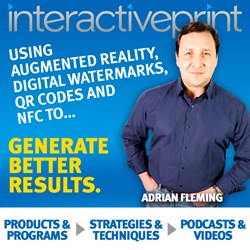 "Having helped all sorts of businesses with interactive print, using all the different technology providers, it has been and still is, a missed opportunity for so many." - Adrian Fleming
Northamptonshire, United Kingdom (PRWEB) November 26, 2013
After almost 4 years of not just implementing but developing the strategy around interactive print campaigns and business models, using technology like QR Codes, Augmented Reality, Digital Watermarks and NFC, the show's host and creator Adrian Fleming wanted to provide actionable information, tips, techniques and tricks, based on his experience of delivering 1,000s of interactive print items, to as large an audience as possible, free.
The Interactive Print Show Podcast is launched via -
iTunes - https://itunes.apple.com/gb/podcast/interactive-print-show-podcast/id754058884
and the show website http://www.interactiveprintshow.com
The Interactive Print Show is more than just a Podcast too with training videos, downloadable PDFs and great examples to use as inspiration via the website and also the show's Facebook page https://www.facebook.com/interactiveprintpodcast .
With the continued rise of technology for marketing, advertising, PR and even in general business situations, the show is aimed at those looking to achieve more without needing to spending a fortune, it will also dispel misconceptions about technology and results as well as being a real asset to all who apply the principles in what they do.
Background:
Adrian Fleming is a UK based marketer and entrepreneur and has been involved in all types of marketing for over 20 years, mobile marketing and app development for over 11 and a leader in Interactive Print, across all technologies, for almost 4 years now, having spoken on the subject in New York at The Mobile Marketing Association's Annual Event, been extensively featured in the Innovations In Magazine Media 2012 World Report for his expertise and work in the publishing sector and helped organisations such as the Royal Mail, The Telegraph Media Group, Armani, Citroën, and many more well known brands, as well as smaller more entrepreneurial people and businesses, profit form and integrate interactive print across their business.
"Having helped all sorts of businesses with interactive print, using all the different technology providers, it has been and still is, a missed opportunity for so many people. Every time I start talking to people about it I see the same questions come up and the same concerns too, no matter what the industry segment people are in or the budget they have, but they are also all really excited by the potential results.
After all this time I feel that it's right for me to share what I have learned so that people can harness this massive opportunity across many things that they do, because doing it right is actually very easy, anybody can do it, you don't need a big budget, even though most people spend way too much, and when you apply some simple rules to what you do the results can be absolutely incredible. Oh and you don't need to be technically minded or a programmer either, the only qualification for getting involved in digital print is a desire to generate a better, more predictable return on your print, marketing, advertising or PR investment." - Adrian Fleming
Notes to editor:
Adrian Fleming is based in Northamptonshire, UK and has a number of business interests focused around marketing services. Adrian has developed a number of specific business models around interactive print and developed the principle of Direct Response Publishing, showcased by the women's fashion title iLove in July 2013, which has now been taken as a model other used in other titles, his work also helped The Telegraph Media Group win the Newspaper Awards Digital Innovation of the Year 2012.
Adrian's personal website is http://www.adrianfleming.com and also has the online business blog http://www.website.co.uk.
Quotes from third parties about Adrian and the work he has done:
"The tools really are cool. … Such fun working on this--thank you! Your contributions have proven invaluable!"
Elizabeth T. Stroud, Educational Consulting
"Thanks for the valued information. It is no doubt Digital Space is the pioneer in smartphone application development with extensive experience and expertise of digital watermarking."
Daniel Chow, Oriental Daily News and The Sun News Hong Kong
"This is really, really interesting. Not least because for once I can start to measure the impact press coverage may have!!!"
Ann-Marie Thomson, Head of Media for Syco TV & Syco Music