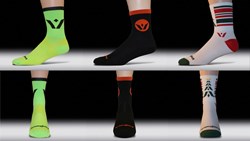 Brentwood, Tenn. (PRWEB) November 25, 2013
Swiftwick, a leading American producer of athletic compression socks announces its new Performance Sock of the Month Club which brings select personality-filled performance socks to Wick Nation's biggest fans. Consumers can sign up for the monthly subscription service to receive exclusive, limited edition compression socks only available to club members who enjoy free shipping.
Just launched online, the Performance Sock of the Month Club provides subscribers with unique socks they often cannot find anywhere else. Members will be surprised each month with a fun new pair of socks to keep their feet fashionable.
"We wanted to reward our most loyal fans with select Swiftwick products available only to them," said David Fitzgerald, vice president of sales. "All of our socks are distinctive because of their beneficial compression and moisture-wicking elements, but we wanted to incorporate more innovative styles and designs to appease those in Wick Nation always looking for more."
After receiving their socks each month, club members are encouraged to share their experiences in an online review, detailing which product they receive and what they like best about the trendy sock.
"The Sock of the Month Club really emphasizes the creativity of our product," said Chuck Smith, COO of Swiftwick. "Swiftwick has a love for individuality and we wanted to share exceptional, specialty socks with customers that are as passionate about high-performance footwear as we are."
With the holiday season upon us, this provides the perfect opportunity to give the gift of stylish performance socks at a great value to any Swiftwick super-fan. Interested customers can join the Sock of the Month Club for $19.99 per month. Sign up by December 2 to take advantage of Swiftwick's exclusive holiday sock.
For more information, visit http://www.swiftwick.com/sock-of-the-month.htm
About Swiftwick
Founded in 2008, Swiftwick is headquartered in Brentwood, Tenn. The company is a performance sock manufacturer that proudly employs an American workforce in high-quality textile manufacturing. Swiftwick is an innovator in designing and producing superior socks. The company has a culture focused on manufacturing through environmentally friendly means, social responsibility and leading customer service. Learn more at http://www.swiftwick.com.