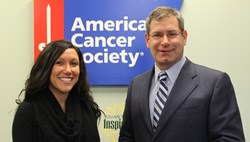 "It is our pleasure to present a donation on behalf of William Mattar, P.C. to the American Cancer Society. The services they provide are very important to the community." - William Mattar
Buffalo, NY (PRWEB) November 26, 2013
The month of October was very busy at William Mattar, P.C. with the Go Pink Breast Cancer Awareness Campaign. In addition to online donations to Making Strides Against Breast Cancer, the firm presented a donation to JoAnna Jacob, Senior Representative of Community Engagements, in the Western New York chapter of the American Cancer Society.
During the month of October, the blue William Mattar logo went pink on television spots, the website http://www.WilliamMattar.com, and even on special pink pens, tumblers and mugs distributed to those donating to the campaign. Staff, friends and community members showed their generosity, and William Mattar was happy to visit the American Cancer Society to present the donation on their behalf.
William Mattar, P.C. is continually involved in safety and awareness campaigns in the community, and were glad to participate in this campaign that affects so many. To view current community involvement and ongoing commitments to safety, go to http://www.WilliamMattar.com.
About William Mattar, P.C.
William Mattar Law Offices was established in 1990. The firm focuses on representing those injured in car accidents across New York State including the Buffalo, Rochester, Syracuse, Binghamton and Albany regions. The dedicated attorneys at William Mattar Law Offices work to get their auto injury clients the best possible results in the least amount of time. William Mattar regularly appears on tv shows to discuss the short time deadlines that need to be met after motor vehicle accidents. The firm is also well-known for its slogan, "Hurt in a car, call William Mattar" and catchy phone number, 444-4444. To learn more about the firm visit http://www.WilliamMattar.com.