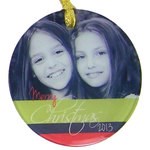 These custom Christmas ornaments make for this season's perfect gift.
St. Charles, MO (PRWEB) November 27, 2013
A great addition just in time for the holiday season, Pic The Gift announces their latest item, custom Christmas ornaments. These 3.5" round glass ornaments can be customized with your most cherished photos, designs, images, or text. Each ornament comes with a gold ribbon attached in which you can hang it from.
Pic The Gift allows customers the ability to create and customize their own personalized and unique "Made in the USA" glass ornaments. These ornaments make perfect holiday gifts and look great on everyone's Christmas tree or displayed as decoration in any home.
Established because of the growing demand for personalized products and photo gifts, Pic The Gift has over 50 years of experience. Located in St. Louis, Missouri, Pic The Gift's manufacturing facility has the ability to offer expedited delivery to all their clients and the capability to ship their products anywhere in the United States in less than four days.
Pic The Gift prides themselves on having strict quality standards and doing 100 percent of their manufacturing here in the USA and they are doing everything in their power to keep jobs in the United States. For more information on Pic The Gift's custom Christmas ornaments and other personalized gifts, visit our website or contact 888-407-5008.