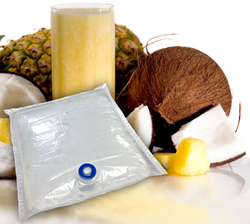 Romeoville, IL (PRWEB) November 29, 2013
Rapak of North America —a business unit of DS Smith, Plastics division and market leader in bag-in box packaging and filling systems— announced today the commercial introduction of a new sustainable bag for oxygen sensitive products such as fruit puree and smoothies.
The new bag was recently tested and validated by Rapak as an alternative to existing metalized film bags that have been utilized in food packaging for many years. This new addition to Rapak's list of sustainable solutions comes at a time when there is a growing interest for a sustainable alternative to non-recyclable metalized bags in the foodservice market. The new bag is made of a clear high barrier film. It is PE-based film with a small amount of EVOH, free of metal deposits and nylon resins rendering the bag and fitments recyclable with low density polyethylene films.
Rapak's new bags are currently available in a stock 2.5 gallon [9.5 L] size, but can be ordered in custom bag dimensions and film thickness with sufficient volume purchases and lead-times.
Complete film property data sheets of the new EVOH film as well as the current metalized structures are available through Rapak. For more information, contact Rapak customer service specialists at (630) 296-2000.
About Rapak and DS Smith, Plastics Division
Rapak is a business unit of DS Smith, Plastics division and a world leader in flexible packaging and filling systems.
The Plastics division of DS Smith works with many of the world's leading companies in a diverse range of industries and markets. Wherever packaging and distribution are important factors in the business mix, the plastics division can help customers drive efficiencies and improve competitive advantage.
DS Smith, Plastics businesses are focused on six main areas: Flexible packaging and dispensing solutions; rigid packaging; fresh produce packaging; temperature-controlled packaging; foam products and print solutions.
For more information about Rapak and DS Smith, Plastics division contact Marianne Abreu at marianne(dot)abreu(at)dssplastics(dot)com