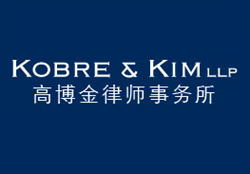 (PRWEB) December 02, 2013
Kobre & Kim LLP is pleased to announce that the National Asian Pacific American Bar Association (NAPABA) has named Kobre & Kim LLP this year's Law Firm of the Year. The award which was presented to founding partner Michael S. Kim at the 25th Annual NAPABA Convention, honored the firm's strong commitment to the Asia-Pacific Community and continued dedication to advancement for Asian and Asian American practitioners.
In presenting the award, NAPABA President-Elect William Simonitsch stated that the award honors Kobre & Kim LLP as a law firm that "achieved prominence and distinction and demonstrated a commitment to support the Asian Pacific American community".
For more information about the award please visit:
http://www.napaba.org/napaba/showpage.asp?code=pr-awards111213
About Kobre & Kim LLP's Asia Practice:
Kobre & Kim LLP is one of the only conflict-free firms in Asia with a focus solely on cross-border litigation, arbitration, and investigations. The firm has built a rare offering in Asia that includes English solicitors and barristers (including three English Queen's Counsel), offshore lawyers, and U.S. trial lawyers (including more than a dozen former U.S. Department of Justice and U.S. Securities and Exchange Commission lawyers) in an integrated advocacy team. Over the past year, Kobre & Kim LLP has quadrupled its presence in Asia, and globally the firm is now comprised of nearly 20% Asian or Asian American litigators and analysts with native abilities in Mandarin, Cantonese, and Korean.
As one of the largest U.S. litigation groups in Asia, Kobre & Kim LLP is well positioned to handle high-profile commercial disputes, cross-border arbitration award and judgment enforcement, and international criminal and regulatory matters. Our attorneys based in Asia work seamlessly with our teams in the U.S., Europe, and the Caribbean to provide our clients with an integrated legal strategy that addresses cross-border needs.
The firm's work has been profiled and recognized by leading industry directories and publications such as Chambers Asia-Pacific, The Legal 500 Asia-Pacific and Benchmark Asia-Pacific, to name a few.
For more information, please visit http://www.kobrekim.com (English) or http://www.kobrekim.com/chinese (Mandarin).