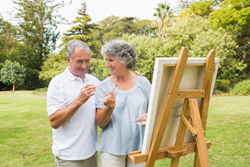 If you can get past the name, a MYGA can be a great way to help secure a comfortable retirement. - CEO Scott Briggs
Farmington Hills, MI (PRWEB) November 26, 2013
It's no secret that many consumers feel fixed annuities are complicated. But Annuities24-7.com has news of an annuity that the average person can understand. It's called a multi-year guarantee annuity, or MYGA.
To hear Annuities24-7.com CEO Scott Briggs talk about MYGAs, a 'MYGA' just may be the perfect annuity for someone who has always been intimidated by annuities. The reason? One of MYGAs' shortcomings may be their greatest strength.
According to Briggs, most fixed annuities offer contract owners a range of options. These may include how (and when) interest growth will be calculated, how money can be received from the contract while it's still in force, how contract owners can receive the annuity's value after it has matured, and on and on.
"In an attempt to offer consumers greater choice and flexibility at every turn," Briggs noted, "many annuity contracts have become complicated and confusing."
Multi-year guarantee products, on the other hand, lack a lot of those bells and whistles, Briggs pointed out. But their simplicity can make MYGAs a good choice for first-time annuity owners.
In Briggs' opinion, annuity contracts have evolved like dashboards on new cars. "They can offer a dazzling number of options," he said, "most of which you will never use."
In contrast MYGAs offer consumers a straightforward value proposition. A person places money in the MYGA insurance contract. They then leave it there for the agreed-upon term (typically three, five, or seven years). The contract owner then gets their money back plus a guaranteed return that can be 1% to 3% more than what their local bank may be offering.
This simplicity is attractive to many consumers who own FDIC-insured bank products that function the same way. One difference, as was just mentioned, is the guaranteed rate of growth the MYGA contract owner can expect.
Another difference is that the MYGA's growth is not subject to ordinary income tax until it is received. So MYGA contract owners benefit from the power of tax deferral. Finally, it's important to note that as annuities, MYGAs are backed by the strength of an insurance carrier, not an agency of the federal government.
"If you can get past the name," Briggs concluded, "MYGAs can be a great way to help secure a comfortable retirement."
And everyone can understand why that is important.
To learn more about MYGAs and Annuities24-7.com, consumers can click on http://annuities24-7.com/myga-annuity.
About Annuities24-7.com
Annuities24-7.com, Inc. is an independent annuities information and referral resource based in Farmington Hills, MI. The company's founder and CEO is Scott Briggs, a member of the Briggs family, a respected team of financial professionals who specialize in wealth management and asset preservation. Learn more by visiting annuities24-7.com.
For additional information, contact Lidia DeBruyn at (248) 987-2993 or via email at LDeBruyn(at)annuities24-7(dot)com.