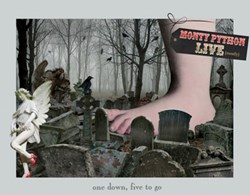 (PRWEB UK) 25 November 2013
Superbreak, the UK's leading short breaks specialist, has announced a range of hotel and ticket packages for Monty Python's return to the London stage in July 2014. The show is set to include Monty Python's surviving cast members; Michael Palin, Eric Idle, John Cleese, Terry Gilliam and Terry Jones, who were all present to announce their return at the London press conference on 21st November 2013.
Superbreak continues to strengthen its relationship with key venue and hotel providers to offer its customer's hotel and ticket packages to the latest London concerts and events. A two night London break in a four star hotel with tickets to Monty Python Live at the O2 Arena starts from just £203 per person. It has been more than 30 years since the Monty Python stars last performed together at the Los Angeles Hollywood Bowl in 1980 making this return a highly anticipated show.
Superbreak is fast establishing itself as a "one-stop-shop" for packaged short breaks and continues to expand its already extensive range of London breaks to include world-wide renowned acts at the O2 to the latest West End hit musicals.
Customers can also choose from a wealth of extras, such as sightseeing, dining and even return rail from most UK mainline stations, which can be added on to each booking. Last year, thousands of passengers travelled with Superbreak on a London break, with many opting to add entertainment tickets to their booking.
Khalid Amin, Online Marketing Manager at Superbreak, commented: 'Our short break packages are designed to give customers great value for money, as well as memorable and exciting travel experiences. The opportunity to see Monty Python Live will be a once in a life time opportunity for many of our customers, and we're pleased to be able to offer this unique package.'
About Superbreak:
Superbreak is the internet division of Superbreak Mini Holidays Limited, the market leader for short breaks and hotels throughout the UK. Superbreak is part of Holiday Break plc. Based in York, England, Superbreak specialises in booking weekend breaks in England in a range of 2-5 star hotel accommodation for the leisure traveller. Superbreak holds allocations of rooms at all hotels and can make bookings up to and on the day of departure.
With 5000 plus hotel partners in worldwide locations from hotels in central Manchester to Brighton, from London to Paris and with great availability and rates for theatre breaks, events at The O2 arena, various popular attractions and national and international rail partners, Superbreak can offer an outstanding depth and breadth of UK and Overseas short break products.