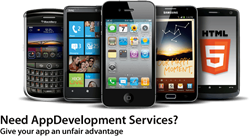 We have seen information overload over last decade. We will be seeing Application overload in the coming decade.
(PRWEB) November 25, 2013
AppDevelopment.com, Inc, a pioneer custom app development company located in Silicon Valley, today introduced Application Optimization Services. The service includes optimization of iOS apps, Android apps as well as HTML5 apps.
Introduction of this new service will enable AppDevelopment.com, Inc to help its customers at a whole new level. AppDevelopment.com's customers can now take advantage of the latest cutting edge technologies to analyze their existing software applications, optimize and consolidate their software assets to better serve their company and their client base. Optimizing application assets not only allows them to eliminate unnecessary wastage in resources, but also helps in better interaction between software assets, and reduce maintenance costs.
Mr. Praveen Narra, CEO of AppDevelopment.com, Inc said, "In today's technological revolution, new applications are being built by organizations at an unprecedented rate. Never before in the history of mankind were there so many applications as today. We have seen information overload over last decade. We will be seeing Application overload in the coming decade. Unless organizations optimize applications within their portfolio, they'll be paying a huge price through wasted resource allocation, infrastructure costs, and other unnecessary maintenance expenses."
"In the last few years, a large number companies have invested heavily in mobile app development. It is not uncommon for large companies to have a suite of stand-alone applications serving different functions. Consolidating and optimizing these apps not only improves efficiency of resource usage, but also improves focus for the whole organization," Mr. Narra said.
About AppDevelopment.com
AppDevelopment.com, Inc, headquartered in San Jose, California is a leader in software and web application development and maintenance. AppDevelopment.com, Inc has successfully completed more than 1200 projects in a wide range of fields. AppDevelopment.com, Inc builds even complex applications with high emphasis on intuitive user experience and scalability. AppDevelopment.com, helps businesses build and manage applications with improved efficiency, usability, and reliability while reducing cost to build and own the applications. AppDevelopment.com's cutting edge technological expertise has helped AppDevelopment.com, Inc secure impressive client list, which includes NBC Sports, 3Com, and Synopsys to name a few. Visit us at: http://www.AppDevelopment.com/.