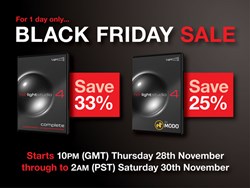 The Black Friday Sale is the lowest price HDR Light Studio has ever been
(PRWEB UK) 28 November 2013
London, UK: As the holiday season fast approaches, life can get more hectic with present buying and travel plans all competing for limited time. This makes it all the more important to have tools that can help you do your job as quickly and precisely as possible giving you more time to enjoy yourself.
For 3D animators and illustrators, lighting can be a slow and repetitive process which is why Lightmap announces its Black Friday sale with HDR Light Studio 4 at special pricing for the first time. Offering a live connection plugging in to more than 10 of the top 3D software packages, HDR Light Studio 4 brings dynamic image based lighting allowing 3D artists to light their shots faster and produce stunning final renders.
Along with the Complete edition containing all plug-ins, the sale also includes the "for MODO" and recently launched "for Bunkspeed" editions.
Mark Segasby, Lightmap CEO adds, "With the nights drawing in for us in the Northern Hemisphere, we're all reminded just how important light is to our modern lives. In CG shots as well lighting is key.
"For anyone who has been thinking about buying HDR Light Studio there is no better time to buy and take the plunge, as the Black Friday Sale is the lowest price HDR Light Studio has ever been. For the cost of a few off the shelf HDRI maps, you can light your shots faster and to a higher quality than any other technique. One look at our gallery shows the results people are getting using HDR Light Studio - it has changed the way 3D artists light their shots forever."
Pricing and Availability
Lightmap HDR Light Studio 4 Complete will be available during the sale through the online Lightmap store and Lightmap Authorized Resellers.
HDR Light Studio 4 Complete £199 33% off
HDR Light Studio 4 for MODO £145 25% off
HDR Light Studio 4 for Bunkspeed £199 20% off
15% off Studio licenses:
HDR Light Studio 4 Floating License(2) Starter Pack £765
HDR Light Studio 4 Extra Floating Licenses £382.50 each
Discounts also available on selected upgrades and add-ons.
About HDR Light Studio
HDR Light Studio software provides interactive creation and editing of image based lighting for computer graphics. Launched in 2009, the software provides a fast and efficient way to light a 3D scene with photo-real results, while fitting into all major 3D rendering pipelines on the market. HDR Light Studio can be used to light any 3D content and is becoming an industry standard worldwide in automotive/product visualization, photo/retouch/CGI studios and VFX studios.
HDR Light Studio is a trademark of Lightmap Limited. All other brand names, product names, or trademarks belong to their respective holders.