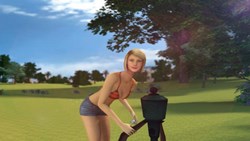 Inter-Course Golf is the product of two repressed Catholic school boys. We hope you enjoy it as much as we do!
(PRWEB) November 26, 2013
A new game for the iPhone takes players around a golf course with some risqué hole names and other surprises. The mobile app, called Inter-Course Golf, is now available for $0.99 at the iTunes App Store. Versions for the iPad and Android devices are planned for the near future.
The player first sets up a profile, choosing a name, and skin tone. The color of clothing items – hat, shirt, pants, and shoes – are all customizable as well. Then it's time to choose a game: the front 9, back 9, or full 18-hole course.
It's at this point that the game's bawdy sense of humor becomes apparent. Holes with names like BushWhacker, DryHump, and SnatchBox await, with course contours to match. A crotchety Scottish announcer offers warnings about losing your balls and shooting straight for the hole. Along the way, the player gets to meet Kimmie, bikini-bedecked girl skilled in the art of ball washing, and Misty, the Chastity Angel and guardian of a special hole of her own.
"Inter-Course Golf is the product of two repressed Catholic school boys," the game's creators said. "We hope you enjoy it as much as we do!" Just prior to release, the game's Facebook page had garnered more than 24,000 Likes. A trailer video and more information is available at http://www.intercoursegolf.net.
For each hole, a map, name, and brief description is displayed. The player is then flown on a 3D trip over the fairway to get a complete overview of the challenge ahead. Sand traps, water obstacles, and the green, as well as excited spectators, surrounding trees, and the city in the distance are all shown in meticulous detail.
At the tee, the player can view the hole's name, par, and distance, plus wind speed and direction, at the top of the screen. The player can repeat the 3D flight and zoom in on the estimated landing spot of the ball.
There are also a dozen clubs to choose from, though in most cases the game's automatically selected wood, iron, or wedge will do the trick. When ready, the player can draw back to control the power of the swing and flick forward to let fly.
This 3D golf game with a mature, humorous theme makes a unique addition to any golf enthusiast's mobile device. It was developed for Inter-Course Golf, LLC by Zco Corporation.