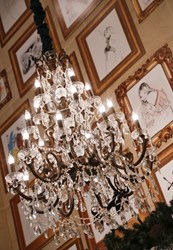 We are often inspired by fashion in designing our lighting collections, so it makes perfect sense to pair beautiful lighting with an upscale women's specialty store like Henri Bendel.
(PRWEB) November 25, 2013
High-resolution photography available upon request.
Crystorama, one of the nation's leading providers of decorative lighting, has teamed up with Swarovski to provide 16 chandeliers for the famed Henri Bendel holiday window display at the Fifth Avenue flagship store. This year's display, dubbed the "Hirschfeld Spectacular," honors the late Al Hirschfeld, an American caricaturist best known for his black and white portraits of celebrities and Broadway stars.
In conjunction with the installation, Crystorama and retailer Capitol Lighting/1800Lighting.com are hosting a holiday sweepstakes for a Crystorama chandelier featuring Swarovski Elements.
"We couldn't be more flattered to be asked to be part of this iconic installation, and we're excited that our fans will get a chance to bring a piece of the Hirschfeld Spectacular into their own home through our sweepstakes with Capitol Lighting," said Brad Kleinberg, president of Crystorama.
Hirschfeld Spectacular at Henri Bendel
The main window of the Henri Bendel flagship store has been transformed into the formal dining room of a classic New York townhouse in the midst of a holiday party. The celebrated party guests—all Al Hirschfeld's line drawings translated into three-dimensions—include: Carol Channing, Whoopi Goldberg, Sarah Jessica Parker, Liza Minnelli, Marilyn Monroe, Audrey Hepburn, Bernadette Peters, and Woody Allen. At the center of the window hangs a large gold-plated Crystorama chandelier sparkling with Swarovski Elements.
The centerpiece of the atrium is Henri Bendel's iconic two-story tree, covered in malachite. Atop the tree is Al Hirschfeld's Charlie Chaplin, also sculpted in three dimensions, looking down at all who enter the store. Fifteen Crystorama chandeliers with Swarovski Elements adorn the tree's many branches.
"We are often inspired by fashion in designing our lighting collections, so it makes perfect sense to pair beautiful lighting with an upscale women's specialty store like Henri Bendel," Kleinberg said.
The display will be up through January 2, 2014 and can be seen at the Henri Bendel flagship store located at 712 5th Ave, New York, N.Y. 10019.
Chandelier Sweepstakes with Capitol Lighting
To celebrate the Henri Bendel window display, Crystorama has partnered with New Jersey-based retailer Capitol Lighting/1800Lighting.com for a sweepstakes where one lucky entrant will get to bring the magic of the Hirschfeld Spectacular to their own home, just in time for the holidays.
During Capitol Lighting's "12 Days of Giving" social media campaign, the grand prize winner will receive a Crystorama chandelier from the Maria Theresa Collection featuring Swarovski Elements. Capitol Lighting will be announcing the contest on its Facebook page on December 12 with a photo featuring the chandelier prize. To enter, fans must "like" both the Crystorama and Capitol Lighting Facebook pages and "share" the announcement photo from Capitol Lighting on their own page and tag both companies; the winner will be announced on December 20.
---
About Swarovski
Swarovski delivers a diverse product portfolio of unmatched quality, craftsmanship and creativity. Founded in 1895 in Austria, Swarovski Crystal Business designs, manufactures and markets crystals, natural and created gemstones, finished products such as jewelry, accessories and lighting. The company's film division, Swarovski Entertainment, produces artistically accomplished feature films with global box-office appeal. The Swarovski Foundation was set up to honour the philanthropic spirit of the company by supporting creativity and culture, promoting wellbeing and conserving natural resources.
Now run by the fifth generation of family members, Swarovski Crystal Business has a global reach, with over 2 350 stores in about 170 countries, 25,135 employees and revenues of 2.38 billion Euros in 2012. Together with its sister companies Swarovski Optik (optical devices) and Tyrolit (abrasive), Swarovski Crystal Business forms the Swarovski Group. In 2012, the Group generated revenues of 3.08 billion Euros and employed 30 600 people.
About Capitol Lighting and 1-800Lighting.com
For more than 89 years, the lighting experts at the award-winning Capitol Lighting have helped customers find the perfect lighting fixture from the largest selection. Capitol Lighting showrooms and their website 1-800LIGHTING.com satisfy all lighting needs, from contemporary sconces and modern chandeliers to table lamps, outdoor and energy-efficient lighting – all at guaranteed low prices. For more information, visit Capitol Lighting, like them on Facebook and follow them on Twitter.
About Crystorama
For more than 50 years, Crystorama has been a leader in the lighting industry, recognized for distinctive lighting creations that are exceptional in quality, design and craftsmanship. Drawing upon its depth of knowledge and expertise and inspired by fashion and art, Crystorama continues to innovate with modern shapes, materials and colors.
Crystorama chandeliers are featured in such prestigious institutions as the U.S. Supreme Court, Constitution Hall and the Palace Theatre, as well as hotels, resorts and homes that range from urban lofts and country estates to suburban neighborhoods. The family owned business is headquartered in Westbury, N.Y., and serves retailers and contract distributors nationwide. Crystorama is on the web at http://www.crystorama.com.