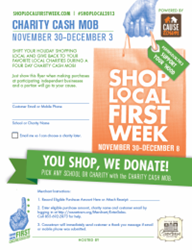 It's a win-win for everyone!
Washington DC (PRWEB) November 27, 2013
Pop culture has taught us that we are all only #SixDegrees away from actor and musician Kevin Bacon. This year, we are excited to announce that The Big Bad Woof will be only one degree away with Shift Your Shopping for Good. Kevin Bacon will be supporting this national small business holiday campaign that will not only stimulate local economic impact in our own communities, but also allow The Big Bad Woof to give back a portion of sales to the nonprofits and schools that our customers care about most -- creating impact right in our own backyards. The campaign runs from (#SmallBizSaturday) November 30 until (#GivingTuesday) December 3, 2013.
"We have always tried to participate in local charities and partner with local rescue organizations, especially around the holidays, but many times we feel that an item donated to a silent auction does not really support our local non-profits in a substantial way. This concentrated giving allows people to come in, support their local businesses and share with their favorite non-profits. It is a win-win for everyone," said Pennye Jones-Napier, Co-Owner of The Big Bad Woof. "The best part is that customers will be able to see the quantifiable impact of their local shopping afterwards."
Shift Your Shopping is an annual awareness campaign that encourages individuals to shift their dollars to locally-owned independent businesses, which in turn will strengthen our local economies, expand employment, and nurture a greater sense of community. This year, with the integration of Causetown, a charitable promotions platform that allows customers to direct a portion of their purchases to any school or charity in the country, The Big Bad Woof can truly Shift Your Shopping For Good and help to impact the greater Washington DC metropolitan area.
"Buying local this holiday is not only about understanding that we are all connected (by #SixDegrees or less), but even more that when we connect our purchases with our desire to help our communities, we build stronger economies at the same time," said Dan McCabe, CEO and Co-Founder of Causetown. "We created this online platform so that independent businesses like The Big Bad Woof can easily support nonprofits in a way that also engages customers—Causetown manages all of the transactions, allows customers to choose any charity in the country to benefit, and quantifies the economic and charitable impact across the entire country. Research from the Institute for Local Self Reliance shows that local nonprofits receive two to three times as much in donations from locally-owned businesses as they do from national chains and we're seeing that in practice through Causetown as well."
This year, let's all take our holiday #SixDegrees further and gift more thoughtfully. It's easy for customers to participate. Just bring the campaign flyer to designate the nonprofit of your choice or tell us at the register. You can find a list of other local businesses participating at ShiftYourShopping.org/ForGood.
Check out Kevin Bacon's video and tweet about it and you may become one degree away from Kevin Bacon yourself.