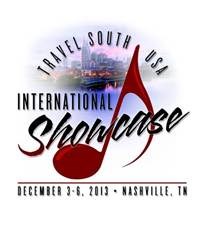 We are confident the Nashville event will have a tremendous impact and generate heightened levels of awareness and interest in international travel to the South.
Nashville, TN (PRWEB) November 25, 2013
New Omni Hotel Welcomes Participants to Nashville, Tennessee
Approximately 93 international representatives and 11 states will attend Travel South USA's 2nd annual International Showcase Dec. 3-6 at the Omni Hotel Nashville.
Travel South USA International Showcase will feature three days of marketplace, city tours and events, including two full days of pre-scheduled appointments for International Buyers and Southern Travel Suppliers. This boutique-style marketplace connects pre-qualified International Tour Operators interested in selling Southern destinations, hotels, restaurants, attractions and Travel Service Providers in the 11 state Travel South USA region.
"We are thrilled to have so many distinguished delegates coming to this year's International Showcase, including tour operators and journalists from 14 countries," said Commissioner Susan Whitaker, Tennessee Department of Tourist Development and Travel South USA Committee Chair, 2013 International Showcase & Brand USA's Super FAMS. "We are confident the Nashville event will have a tremendous impact and generate heightened levels of awareness and interest in international travel to the South."
TSIS delegates will meet with Southern suppliers to discuss new, additional ways to bring international travelers to the South. Countries represented include Australia, Brazil, China, South Africa, UAE and Western Europe. The TSUSA region hosts over 2.1 million international guests annually (7.8 percent of all international visitors to the United States), representing more than $2.38 billion in economic impact and supporting nearly 27,000 jobs.
According to Butch Spyridon, president and CEO of Nashville Convention and Visitors Corp., "Music is a universal language, so I'm thrilled Travel South USA International Showcase will be taking place in the Music City this year. We look forward to welcoming the delegates and showing them the great Southern hospitality, mixed with incredible music that Nashville and the South are known for."
Sponsors for the event include Nashville CVB, Rhythms of the South- Atlanta, Nashville & New Orleans, Brand USA, Hartsfield Jackson Atlanta International Airport, Delta Air Lines, Qantas, Memphis & Mississippi, Simon Shopping Destinations, Hard Rock Café Nashville, Visit Kentucky USA and TourMappers.
Liz Bittner, executive director of Travel South USA, weighs-in on this significant event. "International visitors are extremely important to the Southern region. We are looking to grow our market share by targeting specific countries and connecting with high value tour operators in those countries. People around the globe are interested in our authentic experiences – our food, music, culture, and great Southern hospitality. This International Showcase is about creating attractive tourism packages and strong consumer awareness in places like Brazil, China, Australia, France & Italy. As a result we will see more international visitors' coming to spend their money in our region."
Travel South USA's International Showcase is an invitation-only marketplace and not open to the public. For more information, visit http://www.TravelSouthUSA.org.