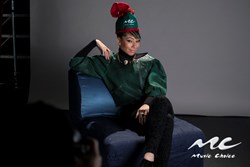 New York, NY (PRWEB) November 27, 2013
Music Choice kicks off its continued holiday coverage starting on Friday, November 29, 2013 with nonstop holiday music on additional music channels.
For the first time, Music Choice will be airing uninterrupted holiday music on the MC R&B Soul and MC Romances Music Channels. MC R&B Soul will feature nonstop holiday hits from artists including Boyz II Men, R. Kelly and Mary J. Blige. MC Romances will feature predominantly Spanish language songs like José Feliciano's "Feliz Navidad" and Prince Royce's "Mi Regalo Favorito" as well as English language titles from Harry Conick and Barbara Streisand. MC Soft Rock will feature holiday hits from artists including Rod Stewart, Carrie Underwood, James Taylor, Kelly Clarkson, Michael Buble, and many more along with MC exclusive acoustic versions!
For those who prefer traditional holiday songs, MC's Sounds of the Seasons Music Channel will continue to feature them no-stop through January 6th. Featured on the channel are old time favorites including Nat King Cole, Bing Crosby, Burl Ives, Frank Sinatra, Andy Williams, Mitch Miller, Gene Autry and many more! A sprinkling of holiday music will also air on many of our other music channels.
Holiday videos will be available on Music Choice On Demand under the Holiday Hits section starting December 2- January 5th. Artist videos include Justin Bieber, Rascal Flatts, and Mariah Carey classics! Check out the video here: http://youtu.be/NwjZD_Y9CKw.
For additional information log on to http://www.MusicChoice.com or follow us at Twitter: @MusicChoice | Facebook: http://www.facebook.com/MusicChoice.