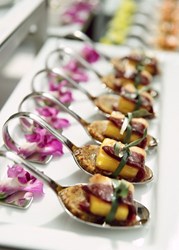 I am astounded how you and your staff find new and innovative ways to surprise, delight and please our guests. Dr. J. Baum
Toronto Ontario (PRWEB) November 26, 2013
Planning a holiday event doesn't have to be a path fraught with stress and uncertainty. That's where Rodney Kaufman, CEO and Executive Chef at Impeccable Taste Catering Service come to the rescue. "At Impeccable Taste, our goal is to create the perfect menu that defines your event. Whether it's a signature cocktail or an entree that will leave your guests talking, we take the hassle out of the planning and implementation of the party, allowing you to relax and enjoy the atmosphere."
Just as important as the catered menu, is the decor that greets the guests. "Really great decor allows you to transport your guests into a Shangri-la of holiday colours and sounds, encouraging them to forget the chill outside and join in the revelry indoors," says Chef Kaufman. Impeccable Taste Catering Service ensures the decor will be as flawless as the catered menu, and works with clients to bring a creative vision to fruition.
Here, Chef Kaufman provides some trendy ideas that are sure to impress everyone on your guest list:
Unexpected Pops of Colour - the traditional holiday decor palette consists of green and red, so break the unwritten rules with bright colours that will delight guests. Deep orange and all shades of blue are particularly striking when mixed with pinecones and candles of varying sizes.
Cranberries Galore - while cranberries are often used in catered menus, adding them to a table decor is chic and easy. Jars filled with fresh cranberries that surround a sumptuously scented candle add the right amount of tradition-with-a-twist to any party.
Forget Candles - it might sound audacious, but forgoing candles to create scents in other ways is a rising trend. Wreaths of eucalyptus, table runners of magnolias and spruce branches strategically placed throughout the party are unexpected ways to create scent stories at any event.
Impeccable Taste Catering works with private individuals, companies and corporations in Toronto and the wider Greater Toronto Area markets. Services include expert event planning and catering for casual lunches, seminars, conferences, product launches, release parties, corporate affairs and weddings, among other social events. Visit http://www.itcatering.ca for more details.