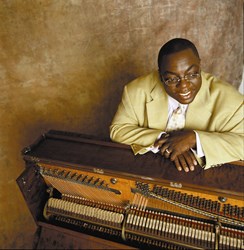 'What makes Chestnut the best jazz pianist of his generation is his willingness to abandon notes and play space.' – Time Magazine
Fort Lauderdale, FL (PRWEB) November 25, 2013
South Florida's premier modern jazz organization is thrilled to present Cyrus Chestnut Trio with Special Guest Russell Malone on Saturday, December 14, 2013, 8:00 p.m. This concert will take place at the Rose and Alfred Miniaci Performing Arts Center on the Nova Southeastern University campus, 3100 Ray Ferrero, Jr Blvd, Davie 33314. Tickets are $40 ($15 for students) and can be purchased from the Broward Center box office by calling 954.462.0222, option #4 in Broward; or online at http://southfloridajazz.org.
Cyrus Chestnut Trio With Special Guest Russell Malone
Virtuosic and playful are terms that best describe pianist Cyrus Chestnut. His approach is simultaneously hard-swinging and soulful, blending contemporary and more traditional jazz with the gospel music of his upbringing, creating a blues-inflected iconic, personal sound.
Cyrus was born into a family very much involved with church music. His father played the organ and his mother directed the choir in the Baltimore Calvary Baptist Church. Cyrus was doodling on the piano at three and his father gave him introductory lessons before age six. His potential was obvious and he studied classical piano at the esteemed Peabody Institute's preparatory program by age nine. His proclivities took him to Boston's Berklee College of Music where he earned a degree in jazz composition and arranging while being awarded distinguished fellowships in three consecutive years.
Before embarking on a solo career about 20 years ago, Cyrus paid his dues as a sideman with high-profile artists Jon Hendricks, Donald Harrison, Wynton Marsalis, and perhaps most influentially, the intense and demanding singer Betty Carter, where every night was a trial by fire for all of her musicians, especially the pianists. In addition to the small combo gigs, Cyrus Chestnut's rhythm section leadership and his prowess as a soloist resulted in first-call pianist status in larger the Lincoln Center Jazz Orchestra and the Carnegie Hall Jazz Orchestra.
For several years, Russell Malone has been one of the most commanding guitarists on the scene. Growing up in Georgia he was involved first in gospel music but he quickly discovered George Benson, Wes Montgomery and Charlie Christian and found himself playing in the jazz cauldron that was organist Jimmy Smith's band. moving from jazz to blues, gospel and pop without hesitation, a rare facility that has made him first-call for Diana Krall, Gladys Knight, Aretha Franklin, B.B King, Natalie Cole, David Sanborn, Shirley Horn, Christina Aguilera, Harry Connick, Jr, Ron Carter, and Sonny Rollins. That certainly is versatility. His sound is warm He was self-taught and influenced primarily by He was a bebop guitarist from the outset and achieved acclaim playing with organist Jimmy Smith.
Artistic Personnel
Cyrus Chestnut – piano
Russell Malone - guitar
Eric Wheeler - acoustic bass
Evan Sherman - drums
Funding for this organization is provided in part by the Broward County Board of County Commissioners as recommended by the Broward Cultural Council.