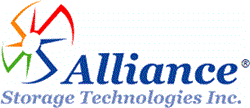 Colorado Springs, CO and São Paulo, Brazil (PRWEB) November 26, 2013
Alliance Storage Technologies, Inc. (ASTI), the leader in professional data archiving solutions, and Zion Technologies Group (Zion Tech), a value-add distributor and systems integrator of technology solutions announced that they are combining their strengths to sell, service, and support ASTI's professional data archive solutions throughout Latin America.
The partnership will broaden ASTI's distribution network for Network and Direct-Attached Archive Storage solutions into Latin American businesses and governments, a region where compliance is a growing priority. Zion Tech, headquartered in São Paulo, Brazil, is one of the largest technology distributors and solution integrators in Latin America will be providing their clients with first-class archiving solutions designed specifically to meet regulatory compliance requirements.
ASTI's Archiving solutions will enhance Zion Tech's products, solutions, and services portfolio, strengthening their ability to serve current customer demands, while giving them the opportunity to break into new markets.
With its economies flourishing, Latin America is developing new data governance guidelines in order to better compete in the global market. This rapidly changing regulatory environment has created challenges for many organizations and governments that are now faced with new demands regarding data privacy, protection, and secure long-term storage of information. ASTI's archiving solutions enable customers to protect their critical business data across both private and public sectors: financial, medical, legal, or historical, with a solid, proven technology that is considered the "gold" standard for professional data archiving.
"Partnering with Zion Tech will accelerate ASTI's expansion into an exciting new market that is experiencing a true need for first class data archiving solutions. Our products deliver the reliability, security, and quality that customers need to comply with regulatory mandates," said Chris Carr, CEO, Alliance Storage Technologies, Inc. "ASTI's scalable solutions bring value to any organization by implementing proactive steps to ensure protection and retention of critical data, reduce backup times, and improve performance at a low total cost of ownership."
"We look forward to working with ASTI to deliver value-add data archiving solutions to our portfolio," said Kleber Garcia Alcatrão, President, Zion Technologies Group. "With compliance and data privacy regulations throughout Latin America driving more data growth for our customers, the Zion Tech team can offer a solid, scalable archiving solution that is cost-effective, and easily integrates into our customers' existing infrastructures."
Zion Tech will be rolling out ASTI's data archiving solutions in Latin America later this year.
About Zion Technologies Group
Zion Tech (ZTG) has been providing IT support services in Latin America for several manufacturers from the United States and Europe for many years. Our team has 21 years of experience in service delivery for the Latin American territory, taking care of importations, stocking, logistics, and services. Zion has international recognition and trust for services performed at geographically dispersed customers in all countries in the Latin American area, with extensive network delivery centers to provide seamless service to customers.
Our experience in achieving excellence has allowed a high growth for ZTG. The On-field Technical Team counts more than 100 field engineers allocated in customer service and providing 7x24x365 multi-vendor support services for tape libraries, storage, servers, networks, and other IT devices. The Coverage Capability range supports all countries in Latin America with parts sourcing and service delivery, meeting 24x7x2 Service Level Agreements (SLAs). The Logistics Team is responsible for maintaining main warehouses plus local warehouses to meet tight deadlines; our employees are experienced in importing, packing, shipping, tracking, and delivering required parts to all members of the Technical Team which, has been honored as highly qualified, certified, and for taking the initiative in achieving excellence in both innovation and service to our customers.
For more information about Zion Technologies Group, please visit http://www.ziontechgroup.com.
About Alliance Storage Technologies, Inc.
Alliance Storage Technologies, Inc. (ASTI), established in 2003, is the leading source for professional data archiving solutions worldwide that meet and exceed regulatory compliance demands for secure, long-term data retention. These regulatory compliant systems preserve original data for extended periods (greater than 50 years) assuring archive data remains unaltered; a necessity for vertical markets such as Healthcare, Finance, Government, Insurance, and Legal.
At ASTI, we are committed to providing best-in-class support to our customers around the world. To find out more about ASTI and our data archive solutions, please visit us at http://www.alliancestoragetechnologies.com or call us at +1 719 593 7900.
Alliance Storage Technologies, Inc., ASTI and UDO are registered trademarks of Alliance Storage Technologies, Inc. All other product and company names herein may be trademarks of their respective owners.
###