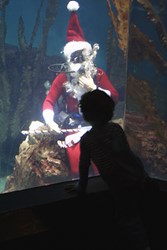 Norwalk, CT (PRWEB) December 02, 2013
Santa Claus plans several upcoming visits to greet children and families at The Maritime Aquarium at Norwalk, including special opportunities to see him diving with the Aquarium's sharks!
That "right jolly old elf" will be at the Aquarium on Sat., Dec. 7 and Sat., Dec. 14 to accept children's wish lists and to pose for photos. Times are 10 a.m.-1 p.m. on the 7th and 10 a.m.-2 p.m. on the 14th. Bring your camera to snap a keepsake memory.
Plus, on select dates in December, Santa Claus will join The Maritime Aquarium's dive team to demonstrate that sharks aren't the blood-thirsty killers of myth. Santa will strap on scuba gear and enter the Aquarium's 110,000-gallon "Ocean Beyond the Sound" exhibit, which is home to 7-foot sand tiger and lemon sharks.
The "Scuba Santa" programs are scheduled for each Thursday in December at 12:15 & 2:15 p.m. They'll be part of the Aquarium's regular dive-team program, which lets visitors see – and talk with – divers swimming among the sharks.
If Santa can pull himself away from the North Pole, he may also join the divers on Saturdays and Sundays in December as well. Check the Aquarium's website – http://www.maritimeaquarium.org – for specific dates.
The Santa visits and photo opportunities are free with Maritime Aquarium admission.
Santa also can be seen at The Maritime Aquarium this month during screenings of the animated Hollywood adaptation of "The Polar Express," showing on the six-story IMAX® screen at 4 & 7:30 p.m. Fridays & Saturdays and at 4 p.m. Sundays through Dec. 22. Based on the 1986 Caldecott Award-winning book by Chris Van Allsburg, "The Polar Express" follows a young boy who doubts the existence of Santa Claus but gets taken on a magical Christmas Eve trip to the North Pole.
Digitally re-mastered into the immersive IMAX format, the animated film has Tom Hanks lending his voice and likeness to several main roles, including the train conductor, a mysterious hobo and Santa Claus.
Special weekday group shows at 9 or 10 a.m. of "The Polar Express" are available in December for preschools and elementary schools. Plus, the film will play at 4 & 7:30 p.m. daily Dec. 26-Jan. 1.
"The Polar Express" is an hour and 40 minutes long.
"We know there are families – and school groups on field trips – who have made it a tradition to see 'The Polar Express' in IMAX here each year," said Chris Loynd, the Aquarium's marketing director. "We're happy to offer it again and hope that more folks make it a special part of their Christmas season."
Tickets for "The Polar Express" are specially priced at $11.50 for adults and $9.50 for children ages 2-12. Maritime Aquarium members save $1.
To include a visit to the Aquarium with "The Polar Express," tickets are $31.45 for adults and $22.45 for children.
Get more details about Maritime Aquarium offerings – or reserve tickets – at (203) 852-0700 or http://www.maritimeaquarium.org.