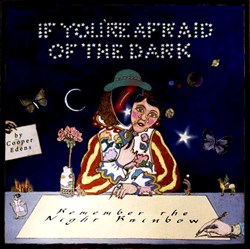 A journey of discovery for the new or old reader.
Seattle, WA (PRWEB) November 27, 2013
Best-selling artist/author Cooper Edens has announced the publication, in digital format, of his award-winning children's book. The new app, "Cooper Edens Night Rainbow", is now available for iPad from the App Store.
First published in 1978, Cooper's book, "If You're Afraid of the Dark, Remember the Night Rainbow," has sold more than a million copies, capturing the hearts and imaginations of youngsters and adults.
"This new app isn't just an e-book version of the print book," Edens says, "it has allowed me to take the style and message a step further, and to interact with even the youngest readers. In some ways, this is closer to my vision than the original."
The app takes advantage of animation techniques and music to add new dimensions to Eden's original version. "The animations let the art and the words develop, changing as the words reveal themselves. It brings it closer to a haiku. Short and sweet, and great for young readers. I think we've been able to add another layer of drama and surprise, but still make it a journey of discovery for the new or old reader."
Already looking ahead to the digital future, Edens is making himself--his thoughts and observations--available on Twitter (@cooperedens) and Facebook (https://www.facebook.com/CooperEdens). He is considering a blog as well, but that's for the future. "I've also got a web page, and our page on the App Store--it's a lot to process for an old print guy."
Edens, who has a published more than 25 storybooks over the years, reflects, "With the new generation of tech-savvy, non-linear kids, I'm really curious--and hopeful--about how this new version will be received. I've seen four-year olds reading Night Rainbow on an iPad, and rereading it. I think we're ALL going to learn something."
About Cooper Edens:
Cooper Edens is a Seattle-based author and artist. He has written and illustrated original works, like "If You're Afraid of the Dark," "The Star Cleaners Reunion," Secret Friends" and "Caretakers of Wonder." He has also compiled a number of "Classic Illustrated Editions" of books including The Adventures of Alice in Wonderland, Robin Hood, and Tales from the Brothers Grimm.
About Lucid Dream Atelier:
Lucid Dream Atelier, Inc. creates, develops and publishes digital graphic books and apps. "Cooper Edens Night Rainbow" ($5.99) is their fourth publication, and their first collaboration with Cooper Edens. It is available for iPads from the App Store.